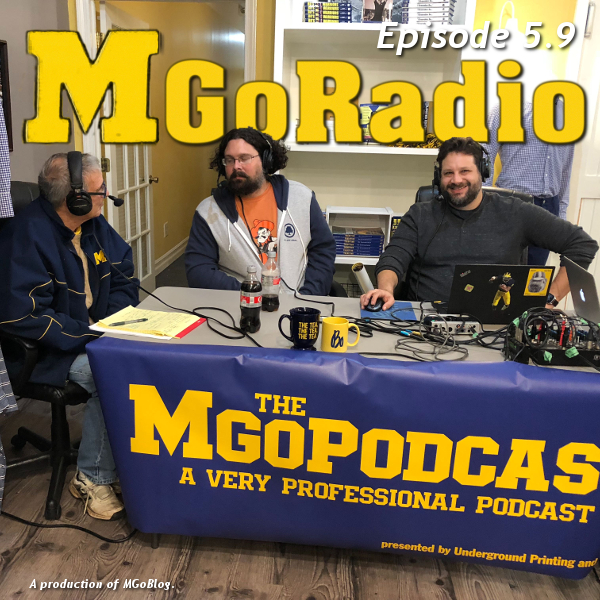 NOTE: Our sound card that converts the audio to digital crapped out so we were using a weird mixer this week. The audio quality suffered as the mixer found weird ways to emphasize some things and not others. Seth sounds far away. Brian sounded too quiet on the live feed. We should have it sorted out next week.
wsg Steve Lorenz (@TremendousUM) and Craig Ross
The Sponsors
We can do this because people support us. You should support them! The show is presented by UGP & The Bo Store, who are the Dudes.
Our other sponsors are also key to all of this: HomeSure Lending, Peak Wealth Management, Ann Arbor Elder Law, the Residence Inn Ann Arbor Downtown, the University of Michigan Alumni Association, Michigan Law Grad, Human Element, The Phil Klein Insurance Group, FuegoBox, Perrin Brewing, and The Athletic (this link gets you 40% off your sub)
[After THE JUMP: dddddd]
--------------------------------------------
1. Across the Crooked Blue Line, with Steve Lorenz
starts at 1:00
Steve Lorenz of 247 comes onto the podcast to talk about Michigan football recruiting, including the hunt for a QB, TE, and a CB.
2. Hoops So Far, with Craig Ross
starts at 25:20
Craig was right about Eli Brooks proving himself as a real player. Matt D thinks Brooks is Michigan's best defender, Craig thinks it's Teske. Defensive rebounding is rough but sample size. A glimmer of hope with David DeJulius. Little bits from Johns, Castleton, and Nuñez with Franz in the wing. The big question: can rebounding get better? Turnovers? Can the 3 guard lineup work? It's working for Ohio State, with DeJulius playing better it could for Michigan. When Franz comes back he should get a lot of the Nuñez minutes and then some. Craig thinks OSU is the real deal. Purdue can't shoot right now, should still make the tournament. Maryland's 3 point shooting needs to be better, as does their free throw shooting. Pieces are there, but they're Maryland. Elon seems to be a better team than advertised. App State isn't bad. Both of those are better than Houston Baptist. Creighton is a top 40-50 team.
3. Michigan State After UFR
starts at 52:25
Michigan's game plan was just toying with MSU. Michigan got to the edge frequently, getting 175 yards off of those and had a few RPO's for 44 yards. Diverted the attention away from Willekes and Raequan Williams. There wasn't much double A-gap blitz from MSU. State seemed surprised by the RPO's like this is still 2015. Ronnie Bell had a phenomenal game, especially blocking. WR blocking as a whole was great. Bubble screens, end arounds to test the edges set up by blocking. Michigan is probably going to have to replace two wide receivers in the offseason and Brian feels okay about it. Michigan ran zero pin and pulls, while MSU probably practiced against it constantly. Patterson's stats were great but he didn't grade out well due to accuracy. Got bailed out by receivers, but not many bad reads. Defensively: not much to say. Metellus loses the plot a couple of times and a there's a TD early but not many other negative things. Defensive ends being so good has allowed Michigan to mask some of the deficiencies at DT. Khaleke Hudson is now the greatest punt block guy in Michigan history.
4. Indiana Preview
starts at 1:19:22
This is probably the best Indiana in a long time. A trap game except everyone respects Indiana. Peyton Ramsey is back at QB while WR Whop Phylior is in concussion protocol and TBD. Nick Westbrook is somehow still at Indiana. All of their WR's are loping downhill guys. Stevie Scott is back at RB, he's just Big De'Veon Smith. They don't get a lot of big runs and Michigan is good at preventing them. They might hammer away for four yards at a time but the interior OL is bad. Michigan will probably be in the 3-3-5 a lot. Indiana goes 5 wide all the time but it's mostly dink and dunk. Seth is adamant that Michigan is a bad matchup for Indiana. The defense is not talented but well coached. Tiawan Mullen is a great corner and is a true freshman. Indiana is highly dependent on blitzing to get pass rush, which is good for Michigan since M is great at blitz pickups.
MUSIC:
The Lucky So & Sos are a Washington DC-based jazz/funk/hip hop band. Established in 2014, the Lucky So & Sos put on a high energy show heavy on improvisation that melds elements of bossa nova, samba, funk, Latin jazz, gypsy jazz and blues with hip hop. Find them on bandcamp. https://theluckysoandsos.bandcamp.com/releases
"Costa E Sol"
"History"
"Function Tax"
"Across 110th Street"
If you or a friend made some good tunes and don't have a label out scrubbing for them we'd be happy to feature you.