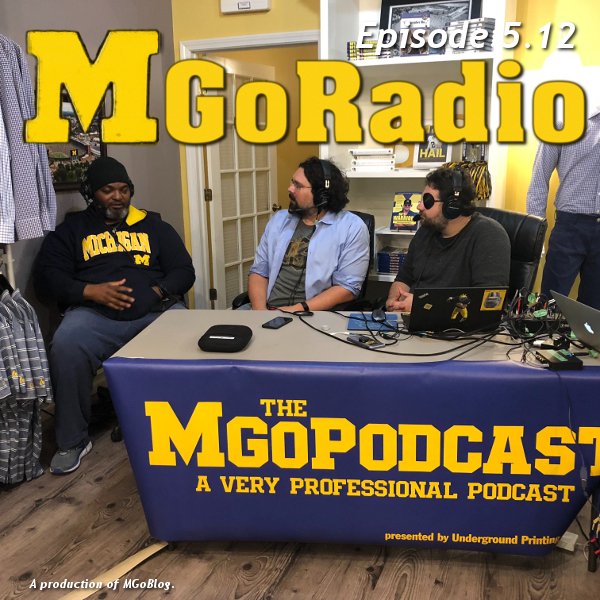 wsg legendary journalist Robin Wright, plus Steve "Dr. Sap" Sapardanis, former Michigan OL Thomas Guynes, and our own Ace Anbender
The Sponsors
We can do this because people support us. You should support them! The show is presented by UGP & The Bo Store, who are the Dudes.
Our other sponsors are also key to all of this: HomeSure Lending, Peak Wealth Management, Ann Arbor Elder Law, the Residence Inn Ann Arbor Downtown, the University of Michigan Alumni Association, Michigan Law Grad, Human Element, The Phil Klein Insurance Group, FuegoBox, Perrin Brewing, and The Athletic (this link gets you 40% off your sub)
[After THE JUMP: the player and what we said]
--------------------------------------------
1.The Game 1969 with Dr. Sap and Robin Wright
starts at 1:00
Famed journalist Robin Wright calls into the podcast to discuss her experience covering the 1969 Michigan vs. Ohio State game, along with Dr. Sap and Seth.
2. Battle 4 Atlantis Recap with Ace
starts at 25:20
Is there a roof on the ceiling? No. Ace was impressed with the defensive turnaround between UNC and Gonzaga. There's still a lot of low hanging fruit with this team: Franz being worked in, Simpson turnover rate quite high even after a strong weekend. Eli Brooks is a revelation, an excellent defender. Has any Michigan player progressed faster in one year than Brooks? Livers does not need a lot of space to get a shot up any more. Not facing many late shot clock situations. Michigan doesn't allow you to take threes or have assists, they want you to shoot iso twos. Seemed like they got the short end of the stick when it comes to refereeing, fouls should go down when that corrects itself. No nervousness when Castleton comes into the game. If Michigan can beat Louisville…
3. OL Discussion wsg Thomas Guynes
starts at 52:25
Discussion about the OL at Michigan and across the B1G. Michigan doing better on twists on the interior, still struggling to move the line of scrimmage at times. An overarching theme in college football: a lack of competition. Who has Bama played? Who has Chase Young faced in terms of great OT's? Haskins is the #1 at running back right now.
4. Indiana Recap and Ohio State preview
starts at 1:19:22
Indiana dinked and dunked quite a bit but their drives came to a quick end when Hutchinson, Paye, and Uche came off the edges. Michigan didn't really respect Indiana's interior OL. Shea was dealing on offense, we haven't seen that guy in awhile. For the first time all season, Shea felt good enough to beat to OSU. Michigan did some new RPO stuff to confuse Indiana, getting them out quick enough to potentially avoid Chase Young. Ohio State has been dominant this season, and it starts with Chase Young, because there isn't a ton else in the pass rush outside of Young. Of Davon Hamilton's 4 sacks, 3 are against Maryland and Rutgers. Michigan needs to focus on Young and hope they have enough time to hit some downfield shots to make the defense loosen up. Corners Wade and Arnette grade out as okay but not great in PFF. Even if Okudah is on Nico, you still have to try. Linebackers are better but more exploitable to the RPO. Weather will probably be insignificant. Fields has minor ankle and thumb issues. Seth isn't as impressed with the OSU OL. They spread it out and let Fields run it.
MUSIC:
The Seaweeds are a Minneapolis band made up of some Michigan ex-pats, notably longtime reader Paul Sonda. https://seaweedsband.com/
"Still Running"
"Sweet Country Life"
"My City"
"Across 110th Street"
If you or a friend made some good tunes and don't have a label out scrubbing for them we'd be happy to feature you.