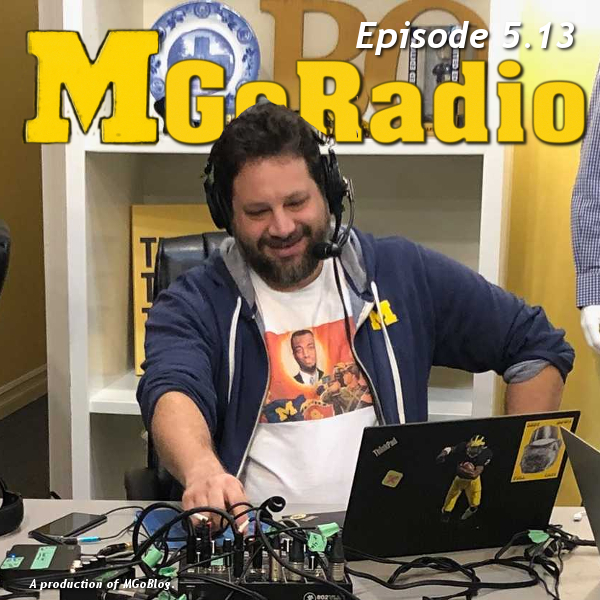 wsg Steve Lorenz from 247Sports, and Adam Shnepp from MGoBlog
The Sponsors
We can do this because people support us. You should support them! The show is presented by UGP & The Bo Store, who are the Dudes.
Our other sponsors are also key to all of this: HomeSure Lending, Peak Wealth Management, Ann Arbor Elder Law, the Residence Inn Ann Arbor Downtown, the University of Michigan Alumni Association, Michigan Law Grad, Human Element, The Phil Klein Insurance Group, FuegoBox, Perrin Brewing, and The Athletic (this link gets you 40% off your sub)
[After THE JUMP: the player and what we said]
--------------------------------------------
1.Across the Crooked Blue Line, with Steve Lorenz: Offense
starts at 1:00
QB is a tough position for Michigan because of JD Johnson's medical retirement. Tried CJ Stroud, but he picked OSU. Have offered Dan Villari instead, a hyper athletic bigger guy and only a three star. Should go to Michigan.
Michigan signed Blake Corum at RB, a borderline top 100 type who they had to hold off from OSU. Jay Harbaugh is the most underrated recruiter on the coaching staff. Corum is totally different than Haskins, Turner, and Charbonnet, built more like an OSU running back. RB has gone from the biggest question on the roster to maybe the deepest on the team. Gaige Garcia is nominally still in the class but on a wrestling scholarship, Tru Wilson might be best case scenario.
AJ Henning is an ideal slot receiver for Gattis. Will probably play next season in the Giles Jackson mold. Eamonn Dennis is one of the likely sleeper picks of the class, a lot of similarities to Sainristil, also a Massachusetts guy and could play CB. Michigan's scouting has been pretty good recently. Roman Wilson was a spring bloomer, also very fast. This could be Michigan's fastest class ever.
At TE, Matthew Hibner shot up the ranks but fell just short of 4* composite- 247 likes him a lot more. Hurt to lose Theo Johnson but Hibner makes it hurt less. Nick Patterson is probably not joining the class.
Not as big of an OL class as last year, this is more of a supplemental class. Michigan had to beat ND to get Reece Atteberry. Jeffery Persi is a Greg Frey type and is Seth's sleeper of the class.
2. Across the Crooked Blue Line, with Steve Lorenz: Defense
starts at 25:20
Braiden McGregor was the crown jewel of this recruiting class, Michigan beat ND for him. Temper expectations for McGregor in year one because of a knee issue. McGregor often played all over the DL in HS. Aaron Lewis is a Kwitty Paye type DE.
Already a DE logjam going into next year, not a lot of rush for either to play. Kris Jenkins projects to DT as long as he puts on some weight. Michigan hasn't neglected DT at recruiting, signed two top tier guys last year. Jaylen Harrell was a late pickup, a borderline top 300 edge with good bend in the Uche mold. Michigan chose Harrell over Van Filinger.
Kalel Mullings is a good MLB prospect who has comparisons to Anthony Solomon as a freshman, should play special teams. Osman Savage is a guy that Michigan loved from the first satellite camps. Mohan has a ton of athletic potential who could be the next heir to the Devin Bush/Cam McGrone throne. Senior film for a lot of the linebackers was terrific and reassured Lorenz about a lot of them. Versatility is a theme on defense now.
Jordan Morant has some Khaleke-type tape, Michigan fought hard to hang onto him. RJ Moten is more of a pure safety. Paige is a high floor guy, safe bet to be solid. Andre Seldon is a little short and has been playing both corner and safety, good athlete. If he was two inches taller, he'd be a 5 star, has great coverage instincts. Dorian Green-Warren will commit to a team (Michigan favored) at Army game, should enroll early. 
3. Superlatives, with Adam Schnepp
starts at 52:25
Overall this is an underrated class, with not a ton of big names. Hard to talk recruiting with people that don't know a lot this year. Adam, Seth, and David go through their picks for biggest whiff, biggest recruiting win, favorite prospect, and more.
4. Five Questions, Five Answers, with Adam Schnepp
starts at 1:19:22
David has to bail for this segment so it's just Seth and Adam. Michigan seems to be more interested in converting strong side DE's into DT's than recruiting DT's straight up. Michigan needs to beat OSU and make the playoffs to get top tier recruits. Coaching staff seems to be doing more scouting than going after five stars recently. Michigan will probably be okay at QB, may need to rely on a grad transfer at some point. Some great names in the 2021 recruiting class, and Michigan has a 5* QB leading it off.
MUSIC:
I've been waiting all year to do this: Ann Arbor native (and friend of the family) Andr Mayer Hawthorne!
"Mr. Blue Sky"
"The Ills"
"The Walk"
"Across 110th Street"
If you or a friend made some good tunes and don't have a label out scrubbing for them we'd be happy to feature you.
THE USUAL LINKS:
"That's when Michigan's been at their best the last few years, it's been when they've had defensive linemen who were unblockable."