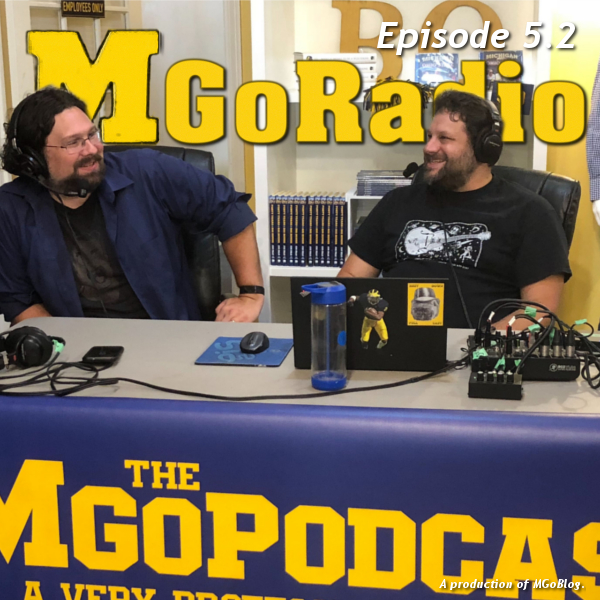 Every week is shark week in Mt. Clemons.
The Sponsors
We can do this because people support us. You should support them! The show is presented by UGP & The Bo Store, who are the living embodiments of the Pitbull philosophy.
Our other sponsors are also key to all of this: HomeSure Lending, Peak Wealth Management, Ann Arbor Elder Law, the Residence Inn Ann Arbor Downtown, the University of Michigan Alumni Association, Michigan Law Grad, Human Element, The Phil Klein Insurance Group, FuegoBox, and Perrin Brewing
[After THE JUMP: How do you tell what's good against UCF?]
--------------------------------------------
1. Army After Review
starts at 1:00
Al Borges is now saying interesting things. Michigan had a good first half in terms of play-calling on offense, the second half really trailed off, getting whipped in RPS by Army. Michigan bashed their face into a wall over and over again. Problem was the QB read was almost never being used. Michigan ran split zone three times and it worked every time. Michigan needs to get a play on 4th & 2 that works. Brian thinks this could be a Come to Jesus moment; we'll find out against Wisconsin. Michigan can't expect Onwenu and Charbonnet to do all the heavy lifting against Wisconsin, get the ball to your WR's. There were 4 protection minuses early on, and then 4 the rest of the game. First ones rattled Shea, was bailing on clean pockets, worryingly similar to last year. OL was good except for Hayes, who was not great.
2. Army Final Thoughts - Defense
starts at 32:28
Uche played nearly every down and showed off his explosiveness and ability to shed blocks. He mostly passed the test, but Wisconsin will be different. Khaleke Hudson had his ups and downs in the game. Turnovers changed the complexion of the game- Michigan wins comfortably without them because the defense did its job. Aidan Hutchinson is a smart player who had a big game. Brian's grading system differs from PFF. Metellus was himself. Comfortable with Hawkins as a run defender, TBD as a pass defender. The Army chop blocks are infuriating.
3. Wisconsin Defense
starts at 1:09:59
The longest ad read of all-time ends in hysteria. Defense gets Garrett Rand back from injury at DE, and Isaiahh Loudermilk is finally healthy. Planning on starting a freshman at NT. They now run a 2-4-5 nickel that looks like a 4-3. Numbers are off the charts because they played two terrible offenses. Lost both ILB's, who were both terrific. Chris Orr is still around. Lost starting S Scott Nelson for the season.
4. Wisconsin Offense
starts at 1:28:23
Quintez Cephus is back, Jonathan Taylor is back, Cole Van Lanen and Tyler Biadasz are great. But Jack Coan is the big looming question. Wisconsin tried to keep it very simple with AJ Taylor so Coan didn't have to do much. Wisconsin is still throwing on short yardage 3rd downs. Jake Ferguson has been disappointing as a blocker. Michigan needs to hammer them with wild abandon, make Coan beat you. This is a game that could go either way.
MUSIC:
Featured tonight: Motorboat of the NYC/Hoboken area. Their drummer has always been here.
"Motorboat"
"James Darmody
"Russka Vodka"
"Across 110th Street"
If you or a friend made some good tunes and don't have a label out scrubbing for them we'd be happy to feature you.
THE USUAL LINKS: