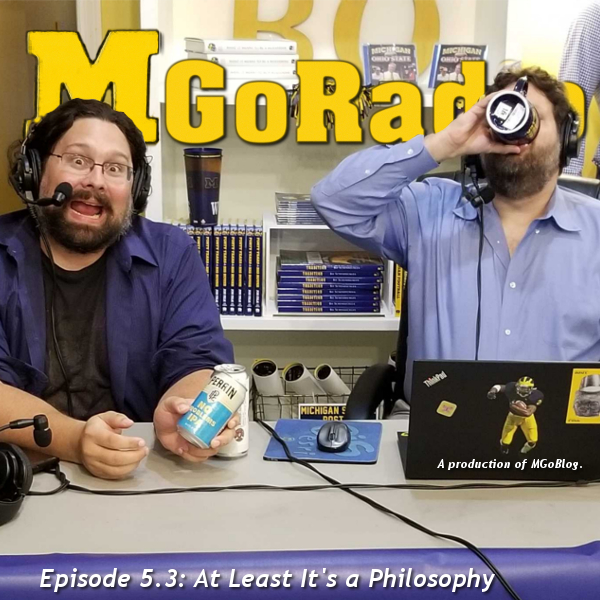 Featuring special guests Randy and Jason Sklar, and Reid McCarthy of Ann Arbor Elder Law
The Sponsors
We can do this because people support us. You should support them! The show is presented by UGP & The Bo Store, who are the living embodiments of the Pitbull philosophy.
Our other sponsors are also key to all of this: HomeSure Lending, Peak Wealth Management, Ann Arbor Elder Law, the Residence Inn Ann Arbor Downtown, the University of Michigan Alumni Association, Michigan Law Grad, Human Element, The Phil Klein Insurance Group, FuegoBox, and Perrin Brewing
--------------------------------------------
1. Wisconsin After Review
starts at 1:00
That happened. Seth can't understand what happened to Shea. The throw to Ronnie Bell was a successfully stupid decision from Shea. Mason's fumble was mostly dumb luck. What happened to speed in space? Bubble screens? Mike Sainristil? Giles Jackson? Why is Nick Eubanks being used as a slot receiver? Why did it take until being down 35-8 to start throwing deep balls to Collins and Black? Michigan refusing to pave the Wisconsin interior is stupid. It got so bad that the Patterson interception was a DL tip from a design rushing play. They're running RPOs that Penn State used to do under Moorhead. This was the worst possible game plan for the second straight week. What did we do all offseason? Michigan consistently 3 years behind what the rest of the country is doing. There were repeated errors on both offense and defense that just don't make any sense. It feels like something is broken in the program overall. I guess Michigan was kind of prepared for Army?.
2. Gimmicky Top Five with Reid McCarthy
Brian, Seth, and Reid give their gimmicky top 5 best coping mechanisms.
3. Sklar Brothers
Segment 3: Interview with Sklar brothersThe Sklar brothers call in to talk about a variety of subjects ahead of their upcoming show in Ann Arbor.
4. Rutgers
Rutgers tried to replace Sitkowski with a Texas Tech transfer but he got hurt so we're back to Sitkowski. Rutgers has two good running backs in Pacheco and Blackshear. DT Willington Previlon is good. No pass rush whatsoever, which hamstrings the secondary. Former Michigan LB Drew Singelton is pretty solid.
MUSIC:
Featured tonight: Various bands of MGoReader Tres Crow
"When You Walk"—The Noble Three
"The Language of Dissent"—Oblivion
"The Way It Is"—Greenland
"Across 110th Street"
If you or a friend made some good tunes and don't have a label out scrubbing for them we'd be happy to feature you.
THE USUAL LINKS:
You want a toe, I can get you a toe.