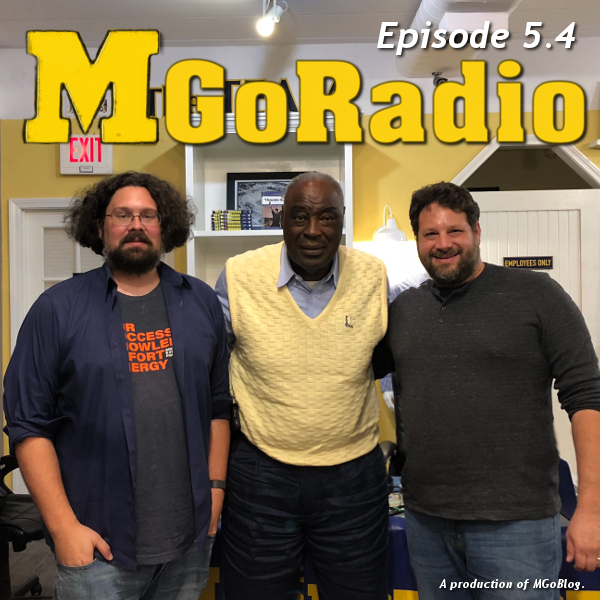 It's like the guy complaining he doesn't have any shoes and he goes around the corner and the guy doesn't have any feet.
Featuring special guests Cazzie Russell, and Matt Demorest of HomeSure Lending
The Sponsors
We can do this because people support us. You should support them! The show is presented by UGP & The Bo Store, who are the living embodiments of the Pitbull philosophy.
Our other sponsors are also key to all of this: HomeSure Lending, Peak Wealth Management, Ann Arbor Elder Law, the Residence Inn Ann Arbor Downtown, the University of Michigan Alumni Association, Michigan Law Grad, Human Element, The Phil Klein Insurance Group, FuegoBox, Perrin Brewing, and The Athletic.
--------------------------------------------
1. Cazzie Russell
starts at 1:00
A Michigan legend joins MGoRadio to talk about his time with the Wolverines, discuss the debate over name and image rights, and the upcoming Michigan basketball season.
2. Rutgers After UFR
starts at 31:42
Michigan's run game is not going to be good until there is a threat of QB run. The run game opened up after Milton came in. Onwenu got a terrible PFF grade but Brian absolved him. Ruiz was a bit more problematic. Michigan seems to have piled on too much stuff and the guys on the line are still trying to figure out how to execute it. Michigan threw some fades! The interception was okay because we're finally taking risks. The defense was pretty much the Cam McGrone show and he should get considerably more playing time going forward. Glasgow had a rough game and defending slants and his playing time could be in trouble. Mike Dwumfour exists! Got healthy against Rutgers, now Iowa is the big hurdle.
3. Matt Demorest Got Stung by Yellow Jackets
starts at 53:14
Matt comes on to share some stories about his travel across the Big Ten.
4. Iowa
starts at 1:06:54
Iowa's TE is their former fullback. Oliver Martin is 5th on the WR depth chart. Ihmir Smith-Marsette is a very good burner on the outside. Brandon Smith is more of a jump ball type. Two NFL-bound tackles in Tristan Wirfs and Alaric Jackson. Nate Stanley is this year's inexplicably hyped-for-the-NFL B1G QB. Mekhi Sargent is solid, but he's not Akrum Wadley. Just a guy. Play a 4-3 even and a cover 2 on defense with not as good of a secondary as usual, but with a monster at DE in AJ Epenesa. Michigan is going to have problems blocking him one-on-one. If Michigan can keep the QB clean, they should be able to throw on Iowa. Can Patterson exploit the zone? If there's a threat of QB run, Michigan should be able to slice the team open. But what if Patterson can't keep it.
MUSIC:
Featured tonight: Reader's band Jes Cru, which is the most 1990s band I've ever heard, and would you' know it: they played around Ann Arbor in the 1990s.
"Gruvement"
"No One Cries Alone"
"Don't Say You Will"
"Across 110th Street"
If you or a friend made some good tunes and don't have a label out scrubbing for them we'd be happy to feature you.
THE USUAL LINKS:
It's like the guy complaining he doesn't have any shoes and he goes around the corner and the guy doesn't have any feet.