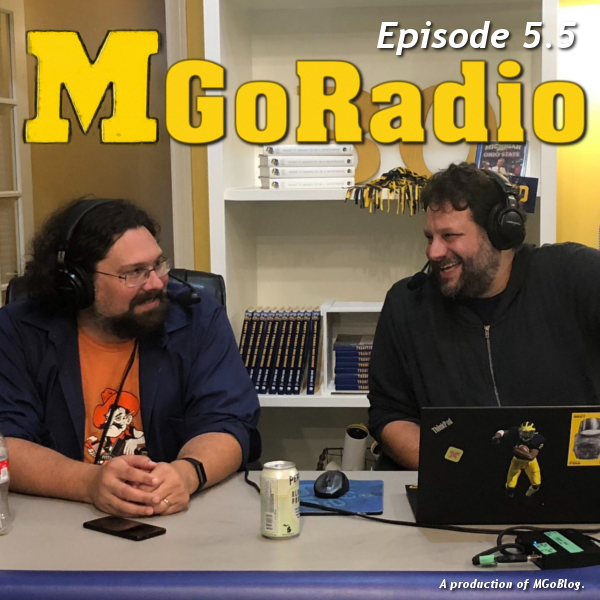 wsg Holly Anderson from The Banner Society
The Sponsors
We can do this because people support us. You should support them! The show is presented by UGP & The Bo Store, who are the Dudes.
Our other sponsors are also key to all of this: HomeSure Lending, Peak Wealth Management, Ann Arbor Elder Law, the Residence Inn Ann Arbor Downtown, the University of Michigan Alumni Association, Michigan Law Grad, Human Element, The Phil Klein Insurance Group, FuegoBox, Perrin Brewing, and joining us starting this week,The Athletic (40% off!)
--------------------------------------------
1. After UFR: Iowa
starts at 1:00
Shea wasn't quite as bad as thought at the time, but still not good. 54% DSR. Patterson took two drive-killing sacks where he missed open guys and runs into sacks. He feels worse than last year. Brian is in favor of a QB switch when McCaffrey is back. Milton? Runyan did okay against Epenesa, Bredeson had a good day on the ground. Michigan had one simplified drive and they need to replicate it to have offensive success. The equivalent of iso ball in football. Running game is still stuck in the mud. What's Michigan's base right now? This feels like it all comes down to Gattis because the Harbaugh rush game trademarks are not there right now.
2. Gimmicky Top Five
starts at 31:42
This was a lot more fun. Michigan has an answer for drag routes, there are still some kinks in the process though, guys missing assignments. More zone, not 80% man anymore. Michigan is able to disguise blitzes better. McGrone is so athletic, able to credibly blitz from linebacker depth. DL had pressure coming from all angles, pocket constricting. Michigan can zone blitz all of Hudson, McGrone, Glasgow, and Uche depending on the play. No need to run corner blitzes. Dwumfour had a nice day, used quickness as a run defender. Iowa has NFL offensive tackles and Michigan still got pressure. Secondary was challenged more than in recent weeks and mostly passed with flying colors. Dax Hill starting to look more like a weapon to pull out. Brown finally back to Dr. Blitz.
3. Holly Anderson and a Gimmicky Top 5: One-Sided Relationships
starts at 53:14
We invite a member of the only college football podcast to our college baseball, basketball recruiting, and beard appreciation podcast.
4. Illinois
starts at 1:06:54
The Power of Lovie's beard. Brandon Peters is hurt and Illinois is down to a 3rd stringer at QB who was a 2 star recruit. Illinois won't do anything against Michigan's defense unless Reggie Corbin runs wild. There is some speed in space on this offense. They have a really good RT. If Dwumfour has a good day, or Michigan shuts down Corbin, that's big. Could be a proxy for future spread offenses on the schedule. Illinois' defense continues to be a disaster and Lovie has had no answers in terms of fixing it. Patterson will probably look good because there won't be much pressure. Michigan's defense might outscore Illinois' offense.
MUSIC:
Featured tonight: Blanche, the gothic indie-country folk medicine show revivalists.
"Jack on Fire"
"Do You Trust Me?"
"Garbage Picker"
"Across 110th Street"
If you or a friend made some good tunes and don't have a label out scrubbing for them we'd be happy to feature you.
THE USUAL LINKS: