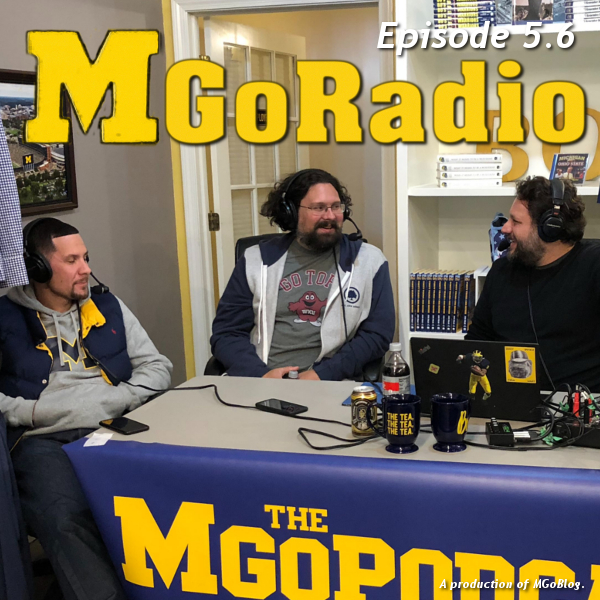 There needs to be a minimum number of charges Brandon Johns commits.
wsg Matty D (@endless_motor) from Endless Motor
The Sponsors
We can do this because people support us. You should support them! The show is presented by UGP & The Bo Store, who are the Dudes.
Our other sponsors are also key to all of this: HomeSure Lending, Peak Wealth Management, Ann Arbor Elder Law, the Residence Inn Ann Arbor Downtown, the University of Michigan Alumni Association, Michigan Law Grad, Human Element, The Phil Klein Insurance Group, FuegoBox, Perrin Brewing, and joining us starting this week,The Athletic (40% off!)
[After THE JUMP: a rundown]
--------------------------------------------
1. Isaiah Todd and Other Five-Stars wsg Matt from Endless Motor
starts at 1:00
Isaiah Todd has committed. First 5* since McGary/GRIII. Comparison is fluid and more switchable version of DJ Wilson. There are some motor concerns that made him drop 10 spots in the rankings. Brian is cautious on Todd, can he define a program or is he just a piece? Todd changes the perception of Michigan as one of Those schools. Makes Michigan relevant in elite basketball recruiting again. His mom was pretty protective and was a big factor in the recruitment. Everyone likes Juwan Howard. The college route seems to be preferred right now but we have to see how RJ Hampton plays out. Michigan will be gigantic next year. Big questions this year: what happens with Castleton and Johns this year? We're likely to see a lot more transition this year. The issue for Johns is mental, not athletic, needs more confidence. Todd shouldn't have the athletic limitations that Iggy had. More posting up with Juwan.
2. More with Matt: How Does This Class Finish?
starts at 36:32
Michigan has three more open spots in the 2020 class. One is held for Jace Howard but he can be pushed out to non-scholarship if needed. Juwan looking for a center: Mark Williams or Hunter Dickinson? Duke wants both. If Dickinson makes it out of Durham without a commit, Michigan is in good shape. Dickinson and Todd are good fits with each other. At the 2-3 spot Michigan's got a few options they have a good shot at: Nimari Burnett, Josh Christopher, Moses Moody, and Jaden Springer. Hopefully M gets one. In the 2021 class Khristian Lander is a guy Michigan has a great shot at, maybe he reclassifies? Todd is already actively recruiting for Michigan.
3. After UFR: Illinois
starts at 54:08
Michigan revived their running game by going back to last year, mixing in the split zone and the pin and pull. Michigan is messing up the low hanging fruit, just not making the right reads. If those QB reads happen, chunk plays might start to happen. If those happen, passing game opens up. Mayfield did a lot of good things and some very bad things. Onwenu was dominant, other people now think he's an All-American. Bredeson is underrated by the UFR grading system. Ruiz has scuffled this year. We need to see more blocking from Eubanks against non-Illinois teams. Brian is optimistic about Michigan's running game against PSU. Bell turned 15 yards into 70. No one on defense was dominant, mostly everyone was good. Glasgow great, Kemp productive. Metellus had some uncharacteristic gaffes.
4. Penn State
starts at 1:27:17
Feels like it's going to be a slog. PSU played Iowa like Michigan played Iowa. Two good defenses. Tommy Stevens deserts State College and Sean Clifford is now in. Noah Cain is really great at getting yards after contact, Michigan will have to be weary of him. Their offensive line still isn't great because of the sanctions era. They rotate on the OL and Seth doesn't know why. Clifford has Shea-disease, struggles against any offense who come after him because he panics. KJ Hamler gives them easy yards. Michigan's pass rush should be a real factor. Against good defenses, their OL puts them behind the sticks, Clifford isn't good enough to get them out. Outgained by Buffalo and Pitt, under 300 yards to Iowa. Their defense is somehow the best run defense in the country but level of competition is a factor. They're mostly the same guys that Michigan paved last year. Michigan will need Onwenu to move Robert Windsor. PSU comes at you with the pass rush and play a lot of zone, not great for Shea and passing game.
MUSIC:
Featured tonight: MGoReaders, the Neal Anderson Quintet.
"Bacon Sundae"
"M-119"
"Parallel Fifth"
"Across 110th Street"
If you or a friend made some good tunes and don't have a label out scrubbing for them we'd be happy to feature you.
THE USUAL LINKS: