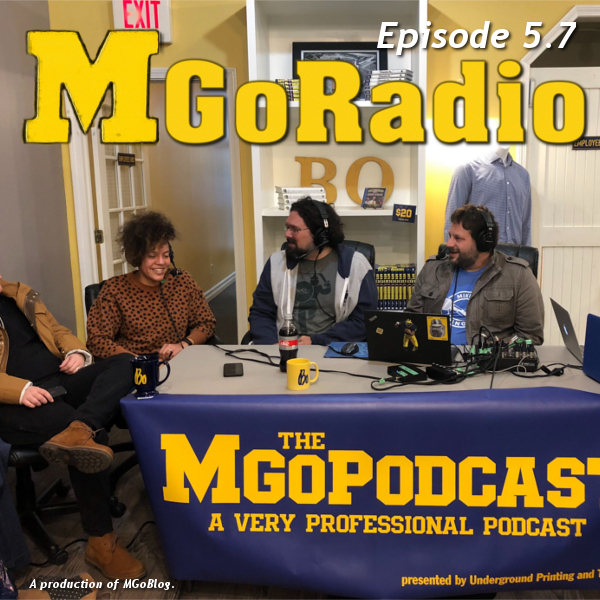 wsg Jane Coaston (@cjane87) senior politics Reporter at Vox with a focus on conservatism and the right, who got that gig by getting good at college football Twitter (Go Blue!)
also wsg Joe Pichey, writer of those MGoBBQ articles we'll bring back as soon as a sponsor steps up. Find him at Instagram at gobluebbq, and twitter: @GOBLUEBBQ.
The Sponsors
We can do this because people support us. You should support them! The show is presented by UGP & The Bo Store, who are the Dudes.
Our other sponsors are also key to all of this: HomeSure Lending, Peak Wealth Management, Ann Arbor Elder Law, the Residence Inn Ann Arbor Downtown, the University of Michigan Alumni Association, Michigan Law Grad, Human Element, The Phil Klein Insurance Group, FuegoBox, Perrin Brewing, and The Athletic (this link gets you 40% off your sub)
[After THE JUMP: a rundown]
--------------------------------------------
1. College Football Prepares You For Some Stuff, Man, wsg Jane
starts at 1:00
Jane Coaston of vox.com joins the podcast to talk about Nazis, her professional experience, housing policy, and Michigan football..
2. Penn State After UFR
starts at 36:32
Defense: 283 yards but 28 points. All the yards on a few plays. Referee calls didn't get better on review. Disappointing pass rush day. Drag route stops set up the damage down the field, safeties biting up. Hawkins busts on two TD's. Michigan is bad at tempo. Time to roll with Dax Hill? Lavert Hill is still too grabby when he doesn't need to be. Bubble screens effective but had some things go wrong. Michigan bouncing between a bunch of things and aren't great at any one thing. Execution still lacks. Patterson's reads still aren't great, he isn't keeping it enough. What were we working on all summer? Micah Parsons was phenomenal. Pass blocking phenomenal, run blocking not good. Patterson better but still not quite what you want. Drops not as bad on re-look. Throw it deep more..
3. Barbecue Tips with MGoBBQ Joe
starts at 54:08
Joe Pichey joins the podcast to discuss barbecue tips, his career, food trucks, and more..
4. Notre Dame
starts at 1:27:17
Ian Book seems to have regressed and both teams are disappointing right now. Notre Dame's faced some bad defenses and has done okay against them. Don't seem to be firing on all cylinders, especially in the passing game. Chase Claypool probably not underrated anymore. Chris Finke is back and is Drew Dileo. They are really good in pass protection according to PFF. Brian Kelly really doesn't want to run. Michigan's defense is pretty close to Georgia who did a good job against ND. Michigan's defense should be fine. Offense more questionable. Can Runyan hold up against Okwara and Kareem? ND has great pass rushers. They deal with RPO's like MSU does. They have feisty but small corners, throw deep balls against Troy Pride Jr.! But the weather… can Shea stay accurate in those conditions?
MUSIC:
Featured tonight: The A+ Machines, local Ann Arbor band from the late '90s.
"Antidote"
"Any Given Day"
"Come Back Swinging"
"Across 110th Street"
If you or a friend made some good tunes and don't have a label out scrubbing for them we'd be happy to feature you.
THE USUAL LINKS:
It'd be nice to have a job where I just tee off on people. Is that a subtweet?