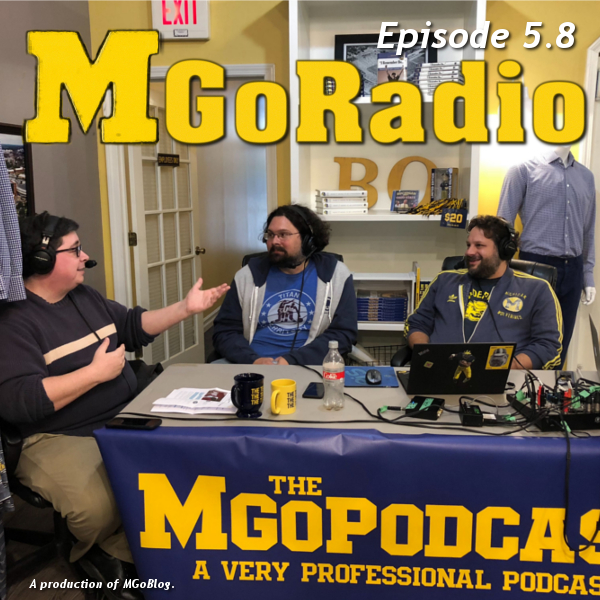 It feels more bipartisan than just about anything these days. Except attacking Blizzard.
wsg Richard Hoeg, small business attorney, who's going to walk us through the NCAA's response to NIL rights
The Sponsors
We can do this because people support us. You should support them! The show is presented by UGP & The Bo Store, who are the Dudes.
Our other sponsors are also key to all of this: HomeSure Lending, Peak Wealth Management, Ann Arbor Elder Law, the Residence Inn Ann Arbor Downtown, the University of Michigan Alumni Association, Michigan Law Grad, Human Element, The Phil Klein Insurance Group, FuegoBox, Perrin Brewing, and The Athletic (this link gets you 40% off your sub)
[After THE JUMP: a rundown]
--------------------------------------------
1. Name & Image Rights, wsg Richard Hoeg of HoegLaw
starts at 1:00
Richard Hoeg joins the podcast to the NCAA's astoundingly retrograde response to the California bill, which doesn't say what your mainstream articles blindly republished that it said. Read it for yourself!
2. Notre Dame After UFR
starts at 43:21
At long last: last year's run game, but with some speed in space stuff. Michigan ran power to defeat the ND scrape exchange. Spread run game went from very bad to very good when deleting a guy became possible. Urban Meyer is unfortunately very good at analyzing football. Most important question: why did it take this long? There were some inexplicable ND screw ups and shouldn't be underestimated. Still, run game is much better than running inside zone over and over again against Army. On defense, not much to talk about because Ian Book was dreadful. Made one read and then scrambled out of clean pockets. Hill and Thomas are significantly better than Vincent Gray at this point in time. Cleanest game from a defense in UFR history. Not a lot of organic pass rush, which could be concerning down the road. Uche dropped into coverage a bit. ND unprepared for zone. McGrone just needs to get a bit smarter and then he's Devin Bush. Redshirt for Josh Ross?
3. Hoops Exhibitions: What to Look For
starts at 1:07:14
Big questions: how much does Castleton play and where? And who plays at the 2 (DDJ, Brooks, Nunez, Bajema). Nunez is probably not in that seriously, not a good enough defender. Brooks looked okay at the open scrimmage, good defender. DeJulius was low efficiency in the scrimmage but is going to be an off the dribble, needs to be a knock down shooter. Question for 3-4: where does Isaiah Livers play? Teske will play 30 mpg, Castleton will play minutes, but the question is if the two can play together. With Johns, we don't know about his mental state. He had a lost year of development as a freshman. Hopefully Howard can work with him. Should make the tournament, will take some losses early.
4. Maryland
starts at 1:29:57
Ghost of Matt Canada is still in Maryland. Super explosive but nothing else. Their receiving corps is Notre Dame: one big downfield guy and nothing else. OL is brutal. Their QB situation is a revolving door with Jackson and Piggy both sorta hurt and a really bad third option. Their pass defense is awful, littered with injuries. Jon Hoke is their defensive coordinator. DL is tiny up front. They also have no sacks. Will get to garbage time in a hurry.
MUSIC:
Featured tonight: Indian-inspired reggae from Nucciano/Jovon, a native Detroiter, classically trained violinist and Michigan fan who's been recording lately with Javonntee. Check out more of her stuff at Micuqu records, www.ja-le-la-entertainment.com/artists-page2.html
"What Are You Going To Do(With This)" ft. Javonntte
"So Hot"
"In the House"
"Across 110th Street"
If you or a friend made some good tunes and don't have a label out scrubbing for them we'd be happy to feature you.
THE USUAL LINKS: