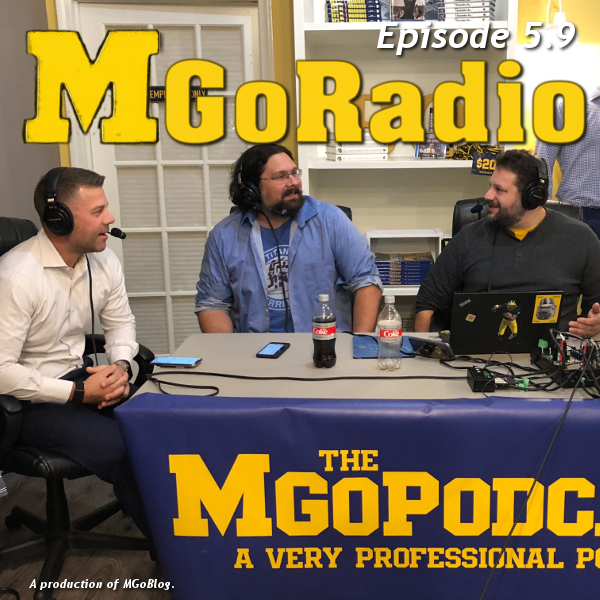 The institution of consensus-based representative democracy in America built on trust, compromise, and a mutual pledge to each other of our Lives, our Fortunes and our sacred Honor.
wsg Nick Hopwood of Peak Wealth Management
The Sponsors
We can do this because people support us. You should support them! The show is presented by UGP & The Bo Store, who are the Dudes.
Our other sponsors are also key to all of this: HomeSure Lending, Peak Wealth Management, Ann Arbor Elder Law, the Residence Inn Ann Arbor Downtown, the University of Michigan Alumni Association, Michigan Law Grad, Human Element, The Phil Klein Insurance Group, FuegoBox, Perrin Brewing, and The Athletic (this link gets you 40% off your sub)
[After THE JUMP: dads]
--------------------------------------------
1. Maryland After UFR
starts at 1:00
Patterson started well with accuracy and then really trailed off. Without a credible QB running threat, running out of the shotgun is only going to be mediocre and that's where we're at. They left Shea's running in the garage. Brian not optimistic that it will all come together against a very good defense. Had a trap that was just power. This feels more and more like a Harbaugh run game week by week. Backs are going to need to be willing to cut up field if the pin and pull is now the base running game. Anthony McFarland stiffarmed McGrone. Mike Danna had a very nice game but unfortunately he's going to be gone next year, will probably get drafted. Uche probably going to the NFL too. Vincent Gray had the best coverage of his career.
2. Gimmicky Top 5 things that are irretrievably broken
starts at 24:04
We count down the top 5 things that are irretrievably broken.
3. MSU Preview: Offense
starts at 1:08:32
OL has 3 guys who are definitely out, one guy sat out last week. Started two true freshman last week and starting a guard at RT. Devontae Dobbs seems to be hurt which is why he's not starting on the offensive line. Top WR Darrell Stewart is out for this game, while their top TE is out for the year following Illinois. Two backup running backs are starting after a bunch of transfers, one of them looks like a dude: Elijah Collins. Receivers are Cody White and not much beyond that. Lewerke was doing a lot of running against Illinois.
4. MSU Preview: Defense
starts at 1:25:24
MSU's defense has taken a step back from dominant to just good. Seth thinks it's because they lost an NFL safety and replaced him with Xavier Henderson. Panasiuk-Williams-Willekes are a good defensive front but weakness now without Bachie. Just run power away from Willikes. Antjuan Simmons is good when he doesn't have to think in the viper-like position. DT's are really good. Josh Butler and Tre Person are not very good corners. Nico is going to be open. Nico Collins needs to get 15 targets. Their kicker has been wonky this season.
MUSIC:
Neco Redd, a neo-soul artist from the West side of Detroit. She toured Europe as a member of Amp Fiddler, and has worked with Boney James, George Duke and Kid Rock. Her debut album we're featuring is NO DISCIPLINE and she's currently working on a jazz project "Smoking Gun" with Amp Fiddler. Facebook: facebook.com/pages/NECO-REDD-EXPERIENCE, or Twitter: @NECOREDDLIVE 
"No Discipline"
"History"
"Detroit City"
"Across 110th Street"
If you or a friend made some good tunes and don't have a label out scrubbing for them we'd be happy to feature you.