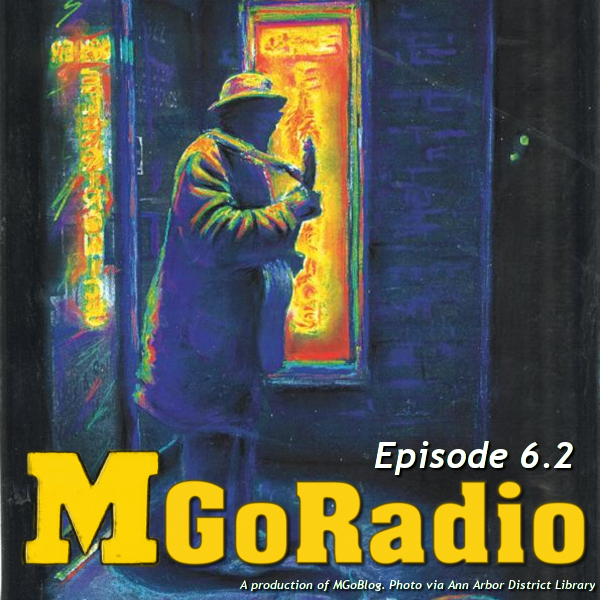 The Sponsors
Thank you to Underground Printing for making this all possible. Rishi and Ryan have been our biggest supporters from the beginning. They're also behind our Ann Arbor Institutions t-shirt program, which was Ashley's this week.
And let's not leave out our associate sponsors: HomeSure Lending, Ann Arbor Elder Law, the Residence Inn Ann Arbor Downtown, Michigan Law Grad, Human Element, The Phil Klein Insurance Group, and Information Entropy.
[After THE JUMP: the player and what we said]
--------------------------------------------
1. MSU After UFR
starts at 1:00
What went wrong? Can it be fixed? Was it just obvious?
2. Indiana Preview
starts at 26:36
Embrace the chaos.
3. Ann Arbor Institutions Program
starts at 45:53
Rishi and I have been doing the Ann Arbor Institutions thing so we wanted to talk some war stories and other tales from the process. Yes, we're going to bring them all back.
4. Gimmicky Top Five Ann Arbor Institutions Gone But Not Forgotten
starts at 1:00:13
The zoo!
Get ready to remember some places. Mine included Ann Arbor Sports Memorabilia, Arbor-Ypsi Bowl, Blue Front, Del-Rio, Fox Tent & Awning, Liberty Street Video Store, Moe's Sports Shop, Oyster Bar & Spaghetti Machine, Pretzel Bell, Raja Rani, Seoul Korner, Steve & Barry's, Steve's Lunch, Stucci's, Sushi.cum, Sweet Loirraine's, Thano's Lamplighter, Tower Records, Zorba's, Dinersty, White's Grocery, Taste of Italy, Elbow Room, Leopold Bros, The UM Zoo, and Shakey Jake Woods.
MUSIC:
We're pleased to feature Ann Arbor legend Shakey Jake Woods.
"Hippy Boy"
"Baby Love"
"Baby Please Send Me Somebody to Love"
"Across 110th Street"
If you or a friend made some good tunes and don't have a label out scrubbing for them we'd be happy to feature you.
THE USUAL LINKS: