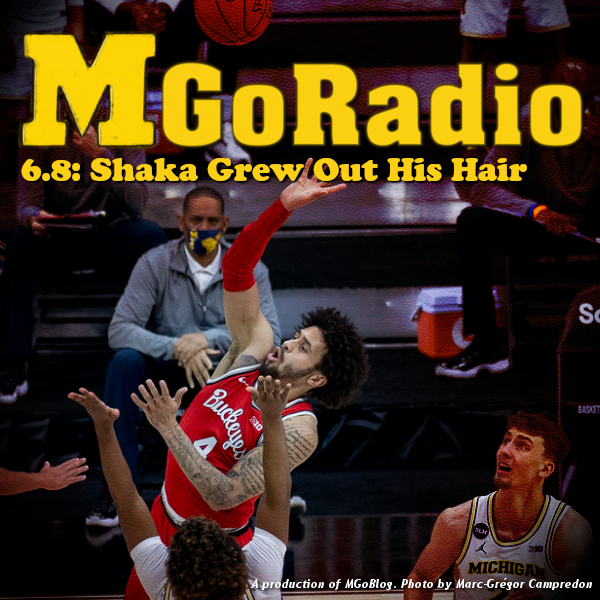 The Sponsors
Thank you to Underground Printing for making this all possible. Rishi and Ryan have been our biggest supporters from the beginning. They're also behind our Ann Arbor Institutions t-shirt program. They have awesome custom tees and hoodies and low, affordable prices. They also have tons of great Michigan apparel that you can wear proudly to support the maize and blue! Check out their wide selection of officially licensed Michigan fan gear at their 3 store locations in Ann Arbor or learn about their custom apparel business at undergroundshirts.com.
And let's not forget our associate sponsors: HomeSure Lending, Ann Arbor Elder Law, the Residence Inn Ann Arbor Downtown, Michigan Law Grad, Human Element, The Phil Klein Insurance Group, and Information Entropy, and introducing the Raw Power app for iOS by Gentleman Coders.
[After THE JUMP: the player and what we said]
--------------------------------------------
1. Ohio State
starts at 1:00
Holding for the last shot good, holding for that long, not so good. Three point luck versus quality of looks. Why didn't we recruit the kid from Grand Rapids? Lots of things could have been enough, but missing Livers when you lose a game of threes kind of makes it a one-note explanation.
2. Maryland
starts at 19:26
Why is Morsell so mad? Oh right his face got dented. Anyway Maryland is very loud for a team that got put in a trash can three times by Michigan this year. Wondering if Turgeon really wanted to go with Howard or if he trusted those around him to break it up first.
3. Livepodding the Bracket Reveal
starts at 30:45
First upset is App State isn't in our bracket. Gonzaga got the tough draws that might be replaced by standby two's. Seth's about 20 seconds ahead so he gets to laugh for that long before the others learn things like MSU is in a play-in game.
4. Michigan's Corner Preview
starts at 57:20
Good draw? We skip the 16 seed (sorry Virginia) to get into LSU and St Bonaventure. LSU is athletic and long but not coached at all—they chuck and chuck some more. St Bonnies doesn't pull their starters off the court, pretty mid-range heavy as well. Guards are chuckers but they have a PF who gets to the rim. FSU is really tall as usual, Colorado wins at home because of their elevation but they're way more beatable down to Earth.
5. The 2 and 3 Seeds on Our Side
starts at 1:20:28
Alabama is the most modern-coached team in the game—they shoot fast, shoot threes and at the rim, and are really good on defense. Texas is biglargehuge and could put Dickinson in foul trouble.
MUSIC:
Thanks to MGoReader Saulius Polteraitis from The Champaign Saints who offered to let us use their music on short notice here. Check them out on Spotify.
"Ghost Wedding"
"The Love Unconscious"
"The Winter Electric"
"Across 110th Street"
If you or a friend made some good tunes and don't have a label out scrubbing for them we'd be happy to feature you.