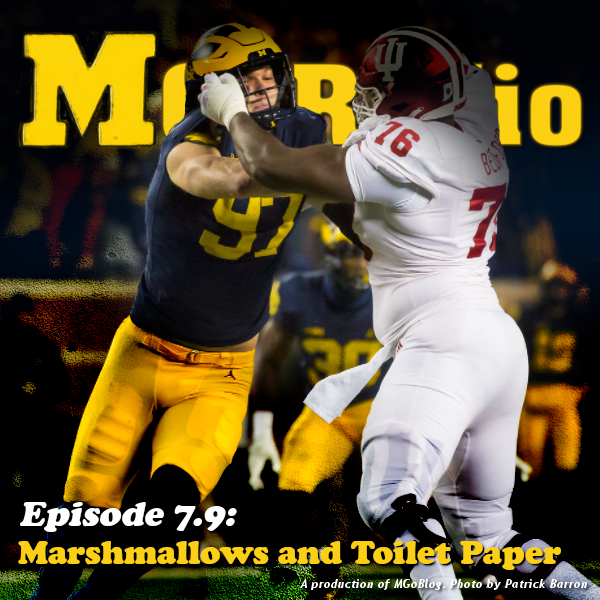 The Sponsors
Thank you to Underground Printing for making this all possible. UGP makes custom apparel such as t-shirts and sweatshirts and was founded by 2 Michigan alums over 20 years ago. They have 3 retail locations in Ann Arbor and offer thousands of University of Michigan athletic products for sale, ranging from clothing to accessories and memorabilia. Check them out at ugpmichiganapparel.com.
And let's not forget our associate sponsors: Peak Wealth Management, HomeSure Lending, Ann Arbor Elder Law, Michigan Law Grad, Human Element, The Phil Klein Insurance Group, Prentice4M, and introducing Team Fan Club! We are of course made possible by SignalWire.
THE VIDEO
[After THE JUMP: the player and what we said]
--------------------------------------------
1. Penn State preview w Alex Drain
Jahan Dotson is a new level of problem for our cornerbacks, but it's good that their QB isn't running because he can't stay behind that OL either. Defense has struggled at DT since losing their star, but still stacked on the secondary.
2. Indiana After UFR
starts at 18:57
Offense still doing things that I hate, started doing more stretch zone, which some of them are good at. Cade had an underrated performance. JJ usage explained by Cade. Haskins did his awesome stuff. Don't know why I needed to chart the defense except to know how badly the NFL is going to want Ojabo now. We did Don Brown things.
3. Basketball: Buffalo Thoughts/Prairie View Preview
starts at 34:12
Buffalo did the Buffalo things. Caleb Houstan's defense needs work if he's going to survive as a perimeter player. Diabate is a freak and it's so fun to have that. Hunter Dickinson is now in the Aidan Hutchinson range of boringly good. Didn't see enough Jones to know. Favorite lineups?
4. Gimmicky Top Five Things We Should Be Happier About
starts at 46:54
With Reid McCarthy of Ann Arbor Elder Law, because his segments always go off the rails.
MUSIC:
Tonight's featured musician Nomo, a funky jazz band that existed in Ann Arbor when I was existing there for a time after college, during which time I acquired their first album "LP" and have been going back to it ever since. Long past the time that I share it with you.
And because Sony bought Across 110th Street and slapped a claim on us, the opener and outro:
"The Employee is Not Afraid"—Bear vs. Shark
"Ruska Vodka"—Motorboat
If you or a friend made some good tunes and don't have a label out scrubbing for them we'd be happy to feature you.