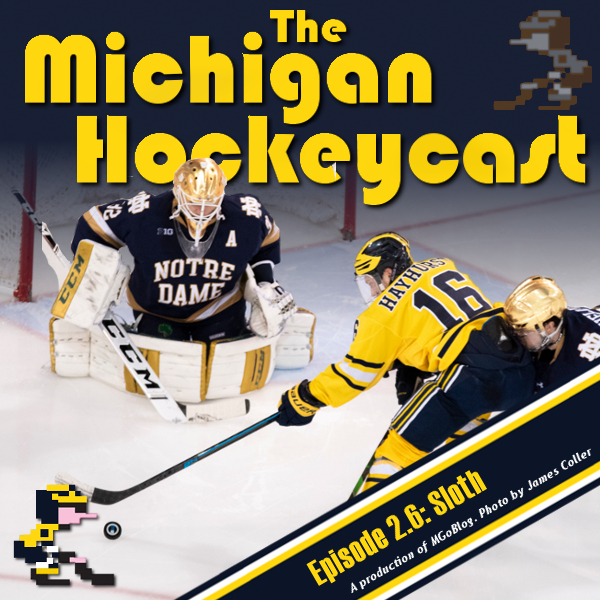 Back in December they were as dead as a trout in a bucket of motor oil.
wsg Craig Ross
This Podcast Has a Sponsor: Michigan Law Grad Jonathan Paul is the guy with the C you want skating next to the ref and pleading your case. He's also a good guy to sit next to at the hockey games.
---------------------------------
1. The ND and Minnesota Series
starts at 0:50
Deflating series against the super-defensive Domers. Get a split or get two wins and Michigan's in the driver's seat to win the conference, but they just didn't have the guys who can get a bucket.
Then they go to Minnesota, who's been hotter than Michigan in the back half of the season, expecting to finish 7th in the Big Ten. Gophers pour it on, and Strauss Mann is a wall. Weird bounce goal brings Minnesota back to 2-1, and then they call a really weak major that steals the game and what could have been a sweep. Craig likes Granowicz because he can do the Holmstrom heavy in front of the net. Mann is a god.
2. Craig's Penalties, Big Ten Tournament, MSU Preview, Pairwise
starts at 28:41
Fifteen seconds for horseplay, 30 seconds for hijinks, 45 seconds for tomfoolery, a minute for shenanigans, and giving him the business is a minute and a half. Roughhousing is 1:45, two minutes for roughing, and then various levels of Mayhem: 1st, 2nd, 3rd degree. Big Ten MVP? Have to get past MSU and their very good goalie to have a shot at OSU again. Sweep MSU and they're in the tourney? Pairwise can get to 12th at best, 14th likely if they don't get help.
MUSIC
"NHL on ESPN Theme"
"Passacaglia/A Bud and A Slice"—Joe Jackson
"Ice Hockey (NES) theme"
THE USUAL LINKS