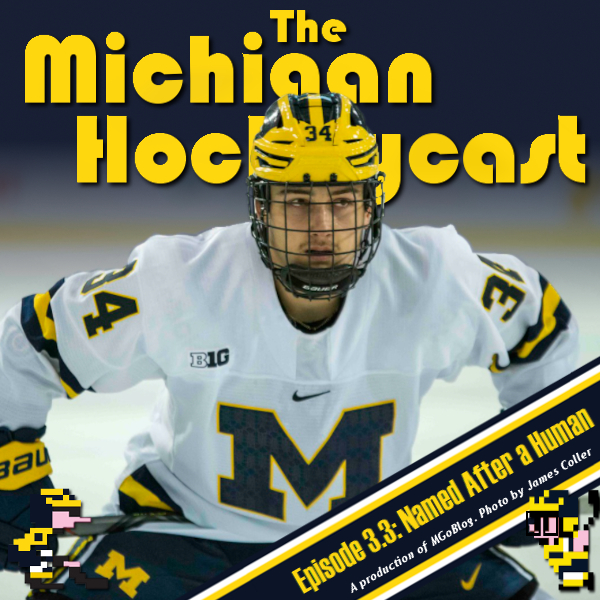 With David Nasternak and Alex Drain
This Podcast Has a Sponsor: Michigan Law Grad Jonathan Paul is the guy with the C you want skating next to the ref and pleading your case. He's also a good guy to sit next to at the hockey games.
[Writeup and player after THE JUMP]
---------------------------------
1. Broadcast Shenanigans & Wisco Game 1
starts at 0:57
Wisconsin's crew was a playful mess and they gave us another entry in the "how to pronounce Brisson" contest. Thomas Bordeleau was a huge part of game 1 with two assists. Michigan came out slow, withstood a strong second period. Beniers/Ciccolini recreated their goal, Lambert had the pass of his career. Not much Mann could do about either goal. Michigan needs to not hit opponents face first into the boards. Kent Johnson is working on adjusting his playing speed to the NCAA.
2. Wisco Game 2 & Notre Dame Preview
starts at 27:08
Choppy game overall, Michigan struggled in the second period and fell down 1-0. Tough shift from Jack Summers. Johnson and Beniers are Michigan's best line, score the equalizer with Granowicz. Michigan spends way too much time in the box, some justified, some not. Michigan just seemed a little bit off. Mann made some big saves, Bordeleau won it in OT. B1G's new standings points system makes so sense. MSU/ASU are pretty equivalent, Minnesota swept PSU. Notre Dame is not high scoring and have a new goalie, anything less than a sweep is a disappointment
MUSIC
"NHL on ESPN Theme"
"Leaving it On the Grass"—Herman Edwards Remixed
"Ice Hockey (NES) theme"
THE USUAL LINKS