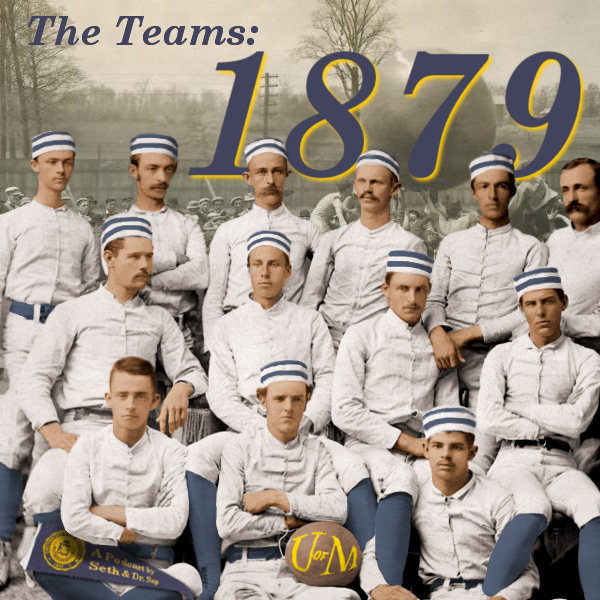 Seth and Dr. Sap return for a second season of The Teams, brought to you by…
The Sponsor: With a 10-year treasury low rates are about to follow, so if you're buying a home soon or looking to refinance, you should talk to Matt Demorest at HomeSure Lending now and see if you can't lock that baby in. In addition to being more ethical, knowledgeable, hands-on, intelligent, and fun to work with, Matt also never royally screwed over John Beilein in a failed bid to upset Michigan's basketball program.
Previously: 1901, 1925, 1932, 1947, 1950, 1964, 1976, 1980, 1988, 1999
Special Guest this Week: Craig Ross, who was merely a 2,850-year-old druid when…
1. ORIGINS OF THE GAME
(starts at 0:45)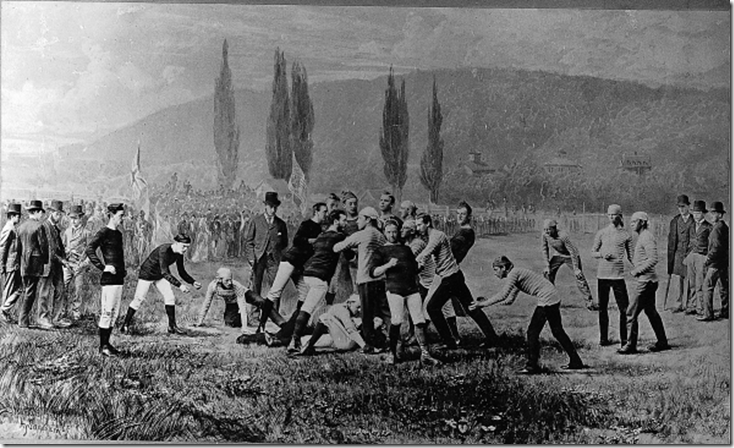 Composite of the Harvard-McGill game, courtesy of the McCord Museum at McGill
Everything you think you know is wrong. Field and town games were purposely ignored through history, which puts a shroud over our records of these games going on in myriad forms throughout the Middle Ages. The American tradition comes out of England. We track the history of baseball because they're linked and it got there first. "Football" refers to all the soccer- and rugby-like games played with a large ball as opposed to "Handball" which used a smaller ball or "Stickball" from which tradition comes field hockey.
Football at Michigan: a guy named William Gailey, who also wrote "The Yellow and the Blue," and also Cal's alma mater, organized these 11-on-11 games that might have been more like soccer. There was also the tradition of "The Rush" which was a violent diag battle where the goal was to throw the other team over their fence. Muscular Christianity and the cultural shift toward a mass appreciation athletics. The athletics movement on campus: students organize sports as they like, create their own athletics association.
Pushball on Ferry Field in 1907. [UM Bentley Library]
Rutgers-Princeton: 100% soccer, but the rugby-like game (and things similar to rush) were around. Michigan wanted to play a soccer-like against Cornell but the game was canceled by Cornell. When does it become football? Rules tensions between places that had rugby- or soccer-like traditions but all called it "football." Harvard-McGill play a game of rugby with a round ball and 15-on-15, had a second game scheduled that was 13-on-13, and it's not clear if it was played. "Food poisoning" means they got drunk. Return game is in Montreal, has an oblong ball, is a very plausible argument that it was rugby. Craig thinks it was still 15-on-15 but it was definitely more like football than soccer. Harvard had a hard time finding opponents for their "Boston Rules" game—found Tufts.
Walter Camp: a situational extremist, as opposed to the open, moving rugby game. What helped Camp win out was everyone was mad at Dartmouth, the extremist who wanted a game more like The Rush. Banned things like dressing like an orc from Warcraft.
2. THE FIRST GAME
(starts at 50:00)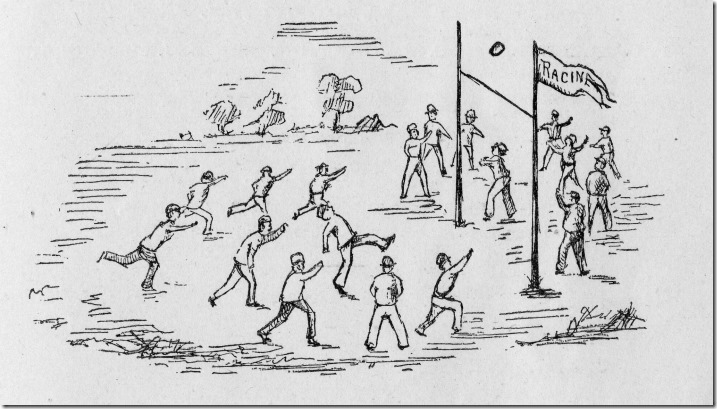 A drawing of the first game from the UM Palladium, 1880 [courtesy UM Bentley Library]
Camp's rules win out in late 1878, Michigan gets challenged by Racine and delays until next spring. Michigan puts on blue belts and blue hose and heads out to play a timed game of 11-on-11. We discuss the rules and the method of scoring a touchdown. Michigan dominates play, scoring the first TD in the first inning (half) but not converting it despite the Michigan fans and their umpire saying the ball went over the crossbar—like that's never going to happen again. Irving K. Pond scores another TD late and DeTarr makes the extra point good for a 1-0 victory (in modern terms it's 13-0).
3. THE TEAM AND THE TORONTO GAME
(starts at 26:04)
THREE-QUARTER BACK Edmond H. Barmore (IN): First quarterback in football. Son of a steamboat builder, director of the athletic association, graduated in 1881. Mustache came along. Moved to LA and got into the transfer business. Feted the 1901 team. Check out this mustache progression:
HALFBACK Charles E. Campbell (Detroit): Dad was a regent and law prof, caught the opening kickoff. Studied under Angell, big-time lawyer and civic leader in Detroit. Trustee of Mariner's Church where I volunteer, where there's a picture of him.
HALFBACK (didn't make Chi trip): Collins Johnson (GR): Surgeon at Harper's Hospital (overlooking the grounds where they played Toronto). Then was the district surgeon in GR for the railway. Made breakthroughs in Typhoid Fever at his lab in later life.
RUSHER John Chase (AA): Doctor, later General John Chase, Colorado National Guard commander. Dad was one of the first treasurers at Mich. Founded Denver Medical College. Known for leading troops against strikers: Ludlow Massacre was under his men.
RUSHER Irving K. Pond (AA): Engineer, son of a state senator. Architect who built a lot of the Arts & Crafts architecture in Chicago, including the Home Insurance Building, Hull House, The Lillie House, and the Lorado Taft Midway Studios, the Oregon Public Library, and the Union at Purdue and the Michigan Union. Rival of Frank Lloyd Wright. Also an amateur acrobat.
RUSHER Richard DePuy (North Dakota): on the 1878-1882 teams. Brother William was on the team one year. Became a physician in Jamestown, part of a company that became Johnson & Johnson.
RUSHER/KICKER/CAPTAIN David DeTarr (Iowa): First captain. Became a doctor in his hometown.
LEFT SIDE Randolph Thomas "RT" Edwards (AA): Father of Tom Edwards, the star tackle for the 1925 team. Owned the rule book (family brought a rugby rule book from Warwickshire, England). Lawyer and teacher and manager of a Seeds sales office.
LEFT SIDE Frank Reed (AA): Nothing available.
RIGHT SIDE Jack A. Green (Austin, TX): Nothing available.
RIGHT SIDE William W. Hannan (Dowagiac): Best athlete at the school, recruited by the athletic association but liked Law better. Became a real estate developer, top real estate guy in Detroit in the 1900s.
GOALKEEPER Charles S. Mitchell (Minnesota): Newspaper publisher/editor, editor in chief of the Washington Herald. Founder of the Athletic Association at UM. Captain of the senior football team. Attorney when he graduated.
FORWARD Frank Gates Allen (Aurora, IL): Moline Plow Company and the bank in Moline, Illinois. His home is the Moline Board of Education building.
SUB William B. Calvert (AA)
SUB Albert Pettit (AA): Real estate in Baton Rouge, LA: Grandfather of the basketball Hall of Famer.
We don't know how the Toronto game was organized but it took place on the ballpark they had recently built in an attempt to get what would become the Detroit Tigers into the majors. Two-hundred and fifty students got on a train that morning. The game started late because Michigan didn't arrive on time. It ended in a 0-0 tie. Little is known about the play because the newspapers covering it focused on the rules.
--------------------------------------------
MUSIC:
"Meet Me in Chicago"—Buddy Guy
"I Am the Very Model of a Modern Major General"—Gilbert & Sullivan
"Across 110th Street"
THE USUAL LINKS
 It was fine to be learned and study but you really need to be a man.