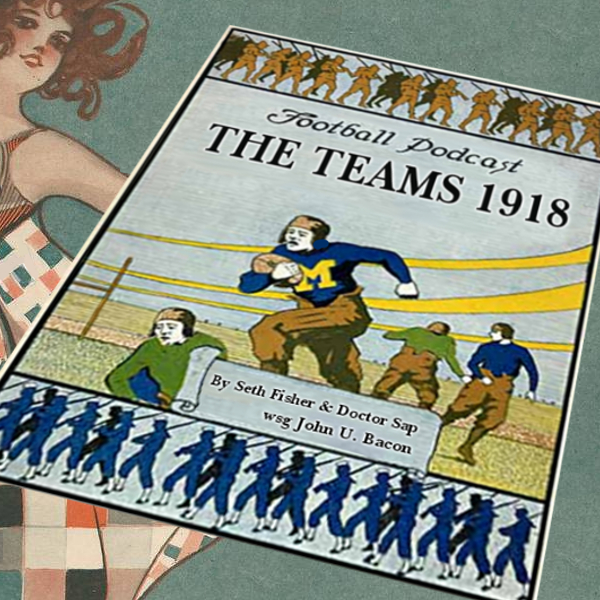 Seth and Dr. Sap return for a second season of The Teams, brought to you by…
The Sponsor: Odds are you're going to be spending a lot of time at home in your underwear—what if you could be paying less for that home? Use this time there to refinance: talk to Matt Demorest at HomeSure Lending now and see if you can't lock in a low rate while it lasts. In addition to being more ethical, knowledgeable, hands-on, intelligent, and fun to work with, Matt also never royally screwed over John Beilein in a failed bid to upset Michigan's basketball program.
Previously: 1879, 1901, 1925, 1932, 1947, 1950, 1964, 1976, 1980, 1988, 1999
Special Guest this Week: John U. Bacon, author of OVERTIME, ENDZONE, THREE & OUT, BO'S LASTING LESSONS, and other books, like WWI one about the greatest disaster you've never heard of.
1. WAR AND DISEASE: THE WORLD IN 1918
(starts at 0:50)
Germans start using U-Boats. Russia drops out, U.S. enters the war in April 1917. But the U.S. takes a year to get there. "Spanish" Flu: Killed 50 to 100 million globally. U.S. loses 110,000 in the war, 40% of whom die of the flu, and most of these before they even went abroad. Especially hit children (today they think people who'd gotten other flus had some immunity built up). Most who died did so from pneumonia. Spread from Camp Devens near Boston. U.S. didn't want to incite panic so they kept it out of headlines and purposefully didn't respond quickly.
Epidemic hit peak fear on October 11 and ⅔ games were called off. Athletic:
By the start of November, just 87 college games had been played nationwide. In 1916 and 1917, those figures had been 291 games and 253 games, respectively. The following season, 287 games would be played across the country before November.
[Hit THE JUMP for the player and rest of the writeup]
2. JOHN U. BACON
(starts at 11:24)
Rule changes: eligible receivers can catch the ball anywhere on the field.  Threat of cancellation: Germany's spring offensive in 1918 was followed by the Allies' 100 days offensive, and in the middle of that the Big Ten considered calling off its games. War teams: Chicago Naval Reserve went 4-0 vs Chicago, Illinois, Northwestern and Minnesota. Because so many players are leaving for the war they lift the Freshman rule for a year.
ROTC created in 1916 but can't wait two years so they also create the SATC to train officers quickly. Most of the football team joined (since you could be drafted if you didn't). Penn, Michigan's rival through its Big Ten hiatus, lost 6 players in 1918. Every Saturday you'd have to field a different lineup. Stagg:
"I think I voice the sentiments of every coach in the country when I say we will teach football this season for Uncle Sam without having the desire to win foremost in our minds," Stagg said, according to the Minneapolis Star Tribune. "Our first thoughts will be to get the men into physical condition, teach them how to think and act quickly and show them the best way of charging and blocking. Team play in football corresponds to the unity of attack in the army. I think playing the game will make better officers."
SATC means the federal govt, not NCAA, can set standards. Left it to the War Dept.
War Department (now State Dept) was running the homefront: quarantines and travel restrictions were being promulgated all summer. Finally clarified them in October:
Academic standards

No more than one and a half hours per day of football practice,

No football games in October that required an absence from campus for a period longer than "Noon to Taps on Saturday"

Only 4 November games per school, two at home, two on the road "which shall in no case involve longer absences than from retreat Friday to taps Sunday."

Can't charge high admission for any game involving a military team.
Pitt bitched because they had to go into the city to use their field so they lost half their practice time getting there. Minnesota turned their entire program over to the local military guy (commandant), as in the Minnesota coaches were told to take a hike.
3. THE TEAM
(starts at 33:06)

Lose almost everybody, including second year in a row their captain (Tad Wieman) leaves to go fight in the war (he enlisted in the Aviation Corps). Also lost halfback Eddie Usher after the first game.
Who's back then? Goetz (moved from end to guard to tackle), and Cohn.
BACKS:
Quarterback Kenneth T. "Mike" Knode (Sr) Was Maryland's starting QB and transferred to Michigan. More of a baseball star, played pro ball for the St. Louis Cardinals. Older brother of Robert Knode, who also played for Michigan before becoming a Cleveland Indians All Star. He's in the Univ of Maryland Hall of Fame.
Left Halfback John S. "Jack" Perrin (Jr). From Escanaba, left after the 1918 season and served in the Navy two years, then played again in 1920. Had a cup of coffee with the Red Sox in 1921 and bounced around the minors then tried pro football. Hart-like.
Right Halfback Abe Cohn (junior) (5), ACTING CAPTAIN: Star in basketball too. Jewish son of Russian immigrants, from Spokane (born in Portland, Oregon), dad and bros owned a furniture business. Via the Free Press he was a Brandon Minor/De'Veon Smith type:
"He made a gain practically every time he was given the ball and, when he was stopped, it always took two or three men to turn the trick.
Could have played into 1919 but redshirted basically so he could play in 1920, since 1919 was going to be packed with guys who were back from the war. Could play end or fullback too. Later became the head football and basketball coach at Whitworth College then Spokane University. On the side he was a PCC (now Pac 12) official, the last good one.
Fullback/Punter/Kicker Frank Steketee (Fr) Deserves mention among the great Michigan special teams specialists and great all-around athletes. Rare Freshman, president of his class, was supposed to be behind Eddie Usher but Usher got called up after the Case Western game, in which Stek had impressed as a sub.
In a punting era Frank was the best until Kipke--Stek once kicked a 100-yarder they say. Also one of the early range kickers, winning three big games in 1918 with his long FGs. Scored all the points in the Cuse game and intercepted the GW pass. Also had a hand in all 14 points against Ohio State, including a 73-yard punt that stopped at the 2 yard line. Only player in the West on the All-American team.
Member of M's first swim team and a great gymnast (not yet a varsity sport), and played on the M hockey team a bit.  Steketee himself got called up in 1919 and served overseas in the Navy, came back and was all-Big in 1920. Served again in WWII as a medic.
FB Edward Usher: Injured after first game. Called up.
Backups: HB/QB Harlan Walker (Jr). Started the first game at QQ; RHB William R. Cruse (Jr) Detroiter who went on to be a football and basketball coach in Iowa.
ENDS:
Left End/RE: Robert Jerome Dunne (Fr). Class of 1922. Yes, Chicagoans THAT Dunne--his father Edward F. Dunne was the mayor of Chicago then governor of Illinois. Candidate for best all-around athlete at Michigan: starred in track and basketball as well, and represented the U.S. in track at the 1920 Olympics in the Pentathalon. Came back and moved to guard on the 1920 and 1921 teams, was 1st team All-American in 1921. Went on to be the line coach at Northwestern, Harvard, and Chicago. Became a state court judge in Illinois. Probate judge oversaw the sale of the White Sox to Bill Veeck.
Brother Maurice played for Yost 1913-16, and two more older brothers were athletes at Michigan. and another from 1944 plus and Arthur Dunne
Right End: Theodore or Edwin Boville? (Soph)
RE Arthur Karpus (So) Mostly a basketball star. Started the 2nd game (Chicago) only. Football/baseball/basketball star was the captain of the 1920-21 hoops team that won M's first Big Ten championship. Became a mechanical engineer and worked for the highway commission.
End Fred Hendershot didn't play much but he's the great grandfather of the Indiana TE.
LINE:
Center: Henry A. "Ernie" Vick (Fr) The other star freshman would go on to be in the college football Hall of Fame. Vick was great at D and snapping. Kipke later said Vick was the best center since Germany Shultz. Said Yost:
"He is the most accurate passer from center that has ever put a ball into play. Under pressure he was dependable at all times."
Mostly a big boxy "line plunger" (middle linebacker). Was finally All-American as a senior--by then Yost was consulting Vick on plays.
Later was the catcher for Grover Cleveland Alexander on the 1920s St Louis Cardinals (Branch Rickey was coaching M baseball). Won a World Series in 1926. After baseball Vick came back as Michigan's line coach for a time, then played some pro football, ending up on Halas's Bears. Was later a football official for the Big Ten, and worked the Rose Bowl. Ended up in Ann Arbor.
C Elmer W. "Earl" Cress: Started the Case game and played well.
Left Tackle Angus Goetz (Soph). From Sault Ste. Marie, studied medicine at Michigan. Started the first game at guard. Had the huge punt block, elected captain in 1919 and 1920.
"There is one star on the team, and that is Goetz, a great player. ... It is a line from poor to good, with one great spot where Goetz stood
Story of Yost saying he would lose his 'M' if he played professional ball in 1922 (two years after graduation) and he turned down $2400 (10 games x $240) and Yost bragged about it. Goetz did play pro ball in 1922 and 1923 on the weekends while in med school. Became a leading orthopedic surgeon in Detroit (chief of orthopedics at Detroit Receiving Hospital). Served in WWII.
Right Tackle Chester Cale Morrison (2). Know nothing except he apparently died in 1960 in Florida. He has several surviving grandchildren.
Others: RT/LG William Fortune (Jr): one of the few guys to go on to play in the NFL, RT Francis T. "Frank" Czysz, RT Albert Lent, LT CC Clash, Left Guard: Theodore "Theo" Adams (3), Right Guard Jean Paul Freeman (5)
LINEUPS:
Fletcher   Clash Goetz   Cress   Freeman   Lent   Dunne
                                         Walker
Perrin        Usher       Cohn
Chicago:
Dunne Goetz   Adams   Vick Freeman   Morrison   Karpus
                                        Knode
                      Perrin       Steketee Cohn
Syracuse:
Dunne Goetz   Adams   Vick Freeman   Young   Morrison
                                        Knode
                        Perrin    Steketee Cohn
MSC:
Dunne Goetz   Adams   Vick Freeman Fortune Bovill
                                        Knode
                        Perrin    Steketee Cohn
Ohio State:
Dunne  Goetz Fortune   Vick Freeman Czysz   Bovill
                                        Knode
                        Perrin    Steketee Cohn
4. THE FIRST FOUR GAMES
(starts at 1:08:53)
via UMBentley
Originally there were games @Cornell, vs Northwestern (in A2) and vs Minnesota (at A2) but those were canceled when the govt made its rule. Wartime travel restrictions canceled the Cornell and Minnesota games, and they replaced them with games against Camp Custer and University of Mount Vernon, but then the flu pandemic canceled both of those plus the Northwestern game, so they got Syracuse instead.
[No games the rest of October because Camp Custer and Mount Union games canceled and MAC rescheduled]
Daily isn't in the mood to discuss the game. It gets one line on pg 2:
"Football is a rough game for the Case lads. So they "hike" instead.
@ CHICAGO 13-0
Nov 9, 1918
Resumption of the old rivalry after 13 years! Last time UC won that 2-0 game that broke Yost's 56-game winning streak. 7,000 fans come.
Not a great game--Cohn and Knode both fumble away early drives, the second leads to an attempted drop kick from the 45 yard line that Goetz blocked and ran 55 yards for a TD. End of the 3rd Q Michigan is driving and is on the Chicago 7. Michigan comes out of the quarter in a fake punt formation, snaps it to Perrin who rumbles to the 1. Got it in next play but Stek missed the XP.
Stek has a bad game overall. Perrin is the star:
SYRACUSE 15-0
Nov 16, 1918
Cuse and Pitt are the best two teams in the East. Orangemen won the rest of their schedule 141-6.
Rain-soaked and muddy as hell. Stek misses a field goal from the 25, Knode fumbles at the Cuse 5 yard line. Second Q for some reason Cuse is passing and Cohn and Vick both get interceptions. Then Syracuse makes mistakes: offsides on a punt gives M good field position, and in the worst of the rain Stek kicks good from the 36. Next Cuse drive they get a roughing and Stek's kick is good from the 35. 3rd quarter Stek misses from the 32, Vick gets another INT and so does Knode. M gets to the 14 and Stek makes it 9-0. Later on Stek intercepts and runs it in for a TD: 15-0, misses his own XP.
Henry Bullion of the Freep:
One man stood above all the rest in this sparkling triumph of the Wolverines. They'll be singing the praises of Steketee long after he trods the campus for the last time. All of the points assembled by Michigan are attributed to the educated toe and agility of Yost's brilliant fullback."
MICHIGAN AGRICULTURAL (MSU) AGGIES 21-6
Nov 23, 1918
Classic M-MSU battle where Michigan held won the battle in the trenches while MSU had some electric play from the backfield.
About 15k crowded into Ferry Field (Yost: we need a new building). MSU is coming off a win over Knute Rockne's (first) Notre Dame in East Lansing behind their new HC George Gauthier and their star African-American running back Harry Graves. Both bands played before the game and took so long it was getting dark. Coaches decided to skip halftime to keep things moving. Michigan's got a solid 21-0 lead built up after their first drive of the 2nd half and go into cruise mode.
MSC scores the only points on Michigan late because it's so dark out at the end of the 4th quarter that they throw a pass and Michigan doesn't know the guy's there. ONLY points scored on M all season. Bullion in the Freep:
"M.A.C.'s defeat is nothing for her to be ashamed of. It simply was a case of a better-conditioned and smarter eleven overpowering another that, though it lacked nothing in the way of fight that its enemy possessed, failed to cope with the superior knowledge of the game that was Michigan's by right of judgment and the attending conditions."
Defeated with Dignity!
5. THE GAME AND CLAIMIN' SHIPS
(starts at 1:44:48)
State of the Rivalry: Michigan first played them in 1897 and made OSU an annual game starting the year before Yost. Ohio State wasn't in the conference yet so they were a nonconference annual rival from 1900-1906 and we just kept playing every year after that until 1912, when OSU joined the Big Ten and had to break it off (also broke off their original EoY rival, Kenyon College). At this point Michigan had a 13-0-2 series lead. So this game was M-OSU back together again, and placed at the end of the year. It's warming up but it's not THE rivalry yet.
OSU: No Chic Harley (war) who was one of the biggest stars in the game in 1916-'17 and 1919 (Yost asked to personally congratulate Harley after the 1919 game). The character in Leatherheads was loosely based on Harley, who was a player-part owner of the Bears. Chic lived a sad life after.
Michigan and Illinois didn't play each other but OSU was a common opponent so beating the 13-0 mark by Illinois was the goal. Conditions were wet and slippery due to rain all morning. Stek got into a punt-a-thon with OSU's Rife.
3rd Quarter Knode finally breaks the tie with a 30-yard TD run but while they're celebrating a linesman FROM THE WRONG SIDE overrules the guy who was over the play and says no TD. Typical.
0-0 tie in the 4th quarter: 73-yard punt by Stek "stuck fast in the mud" on the OSU 2. Next punt Rife get blocked by Goetz. Bullion in the Freep:
"The pass from center was perfect and there seemed to be no fear that Rife would not get it away. But Goetz, one man who has starred in every game the Maize and Blue played this year, shattered the line and rammed the Buckeye punter. Leather and Goetz collided and the pigskin went bounding away with Goetz in hot pursuit. Three scarlet-robed athletes tried to block Goetz's path to the ball, but he thrust them aside and went to earth with it just as his rivals in the race catapulted themselves at the leather.
Later Stek faked an edge run and popped it to Dunne for a TD pass.
Big Ten Champs? 
Illinois and Purdue were also undefeated in B1G play: Illinois's AD tries to claim the title with 4 wins (Iowa, at Wisconsin, Ohio State, at Chicago) to Michigan's two (Chi and OSU). Illini try to use their blowout over Chicago, M stands on a road win at Columbus. Illinois by the way has two 7-0 October losses to Great Lakes Navy and Chicago Naval Reserve--both All Star teams. Maybe it's a good thing M's games were canceled?
National Champs?
Pitt went 4-0 under Pop Warner but then lost to the Cleveland Naval Reserve on 11/30, 10-9. They claim the 4th Q was extended to allow the cadets to take the lead. It ended Pop's 30-game winning streak.
--------------------------------------------
MUSIC:
"A Good man Is Hard to Find"—Eddie Green
"Over There"—George M. Cohan
"Clarinet Marmalade"—Bix Beiderbecke
"Tishomingo Blues"—Duke Ellington, performed by Bunk Johnson
"Across 110th Street"
THE USUAL LINKS
 The war is not over. Millions are being killed. Europe is mad. The world is mad!