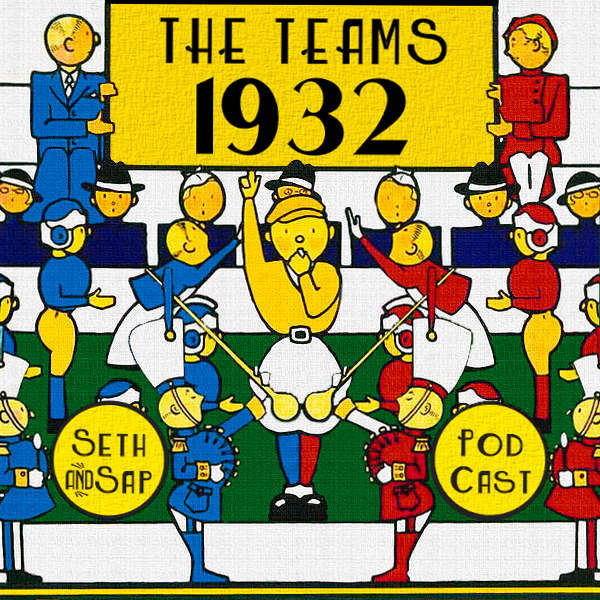 Seth and Dr. Sap bring you a podcast about Michigan's greatest teams. This episode: an unforgettable season nobody remembers, featuring special guest Greg Dooley of MVictors.com.
Previously: 1901, 1925, 1947, 1950, 1964, 1976, 1980, 1999
THE SPONSOR:
It is sponsored by HomeSure Lending. If you're buying or refinancing your home, this is the guy to talk to. He'll work on your loan directly and walk you through a process that can get really confusing really fast. I used him. Brian used him. Everyone else who used him is glad they did.
[Description, diagrams, some video after the JUMP]
--------------------------------------------
1. FOOTBALL IN THE GREAT DEPRESSION
(starts at 0:40)
A huge report on cheating in college football—the Carnegie Report—comes back in September 1929 with the conclusion that everybody's cheating, the South is cheating blatantly and at incredible levels; the response is a national "meh." We discuss Michigan's part in all of this, and how much Kipke knew or encouraged it (it's all pretty sad and small to be honest). Michigan was lucky to have built all of their stuff in the '20s. Depression stuff: 1931 "Charity Schmaritty" game. NEW RULES: Most notable is you're now down if any part of your body but hands or feet touch the ground (previously: knees or shoulders).
Yost is still around as AD and Kipke (a former MSU coach) is in his fourth season after surviving where other Yost successors did not, probably because Kipke had his own power base in the state. Coming off a disappointing season in 1931, replacing their entire line, everybody on their '32 schedule is going to be ranked at some point.
2. THE TEAM THE TEAM THE TEAM
(starts at 33:48)
CLICK FOR FULL-SIZE
BACKS: If they had called the Heisman the Heisman a few years before we would all know the name of QB Harry Newman, the Denard of his era. Incredible that there are four or five guys on this team with more notoriety than him considering he was the best player in the country this year and next. LHB John Heston (Willie's son) is expected to be the big star, but got hurt and ceded time to blocking fire hydrant RHB Stanley Fay. Heston replaced by LHB Herman Everhardus, a lanky receiverish guy. Fullback John Regeczi (also the punter) is a blocky yooper, great "line plunger" (linebacker) and short-yardage back.
ENDS: LE Ted Petoskey is your Bennie Oosterbaan 2.0, played for the Reds. Willis Ward's story (by Dooley) was published on MGoBlog at the 100th anniversary of the football program and that sparked interest that led to the film. First black player on the team since the early part of the century. Extremely fast: one of the fastest people in the country. Kipke came in ready to integrate, had to find the right guy, was willing to throw down with anyone who started something.
LINE: Lots of injured guys and lots of new starters. C Chuck Bernard is an All-American, only lineman who makes it through the whole season, replacing Maynard Morrison the way Cam McGrone is replacing Devin Bush Jr. LT Francis "Whitey" Wistert, the eldest of the brothers is on this team. Weird that all three Wisterts played for different coaches in such different eras: Whitey during Kipke's heyday, Albert for Fritz Crisler's Mad Magicians over a decade later, and Alvin after the War under Oosterbaan.
LG Abe Marcovsky veteran G also injured against Ohio State. Tried to get back but couldn't quite. LG John Kowalik a three-year starter, got hurt mid-season. C Gerald Ford: Shined on freshman team with Ward, and was rotated in as a second linebacker often. Edged out Willis Ward for the Meyer Morton Award. RG Cecil Cantrill: Big dude, minor injury vs IU. RT Russell Damm: Preseason starter at RT, vastly improved defensively, kicked in the head against Northwestern and left the game.

RT Thomas Austin: Later captain of the '34 team. Great defensive tackle. T/G Carl Savage: Also the FG kicker. Small guy but replaced Kowalik at G when he went out.
3. THE GAMES, THE GAMES, THE GAMES
(starts at 56:10)
26-0 Michigan State: Great Depression means nobody can afford to go to the game anymore, so they're doing things like double-headers. Michigan State College Aggies, "Iron Men" have a decent team now all of a sudden. MSC is actually favored in this game. No worries. Everhardus has a 32-yard "twisting, turning" TD run.
15-6 Northwestern: This is the LSU-Bama of 1932. Somehow a highlight reel exists from the Northwestern game. Pug Rentner, Northwestern's "Heisman" candidate, fumbles on the first play.
Also:
Michigan hurt by the new rules: Fay scored but new rule calls a ball dead when any part of a runner's body touches the ground (elbows). Next play they go B gap and score. Had another chance from the 1 but fumbled behind the line on 3rd down, missed the kick, and under the rules of the time the ball went out to the 20.Northwestern shanks a punt but again M can do nothing with it.
14-0 Ohio State: Michigan band teaches them the script Ohio. Carmen Ohio was written on the way home from getting crushed at Michigan. Helmet stickers are from Bo, script Ohio is from the MMB, are any of Ohio State's traditions their own?
"Helpless against Harry Newman's accurate passing." OSU had a few power drives but couldn't get inside the M 20. Regeczi self-called a fake punt and got it. Next drive OSU's Cramer tries it and is stuffed.
32-0 Illinois: Full house:
Not a great Illinois team. Just 19,013 showed. Injuries to Fay and Heston means Regeczi moved to Right HB, Petoskey moves to fullback, and Willis Ward starts. Newman to Ivy Williamson to open the scoring right away, 20-0 lead at halftime, Newman 76-yard kickoff return to start 2nd half. Michigan: 410 yards of offense, 296 on the ground. Petoskey: 187 yards on 21 carries.
14-7 Princeton: Year 1 under Fritz Crisler, from Minnesota. Crisler has Tad Wieman on his staff. Kipke has Bennie Oosterbaan on his. So you've got four Michigan head coaches on this field. Chilly and drizzly rain, perfect for Crisler's big, grindy offense with fullback Jack James. Princeton got out ahead 7-2 in the first half and the conditions and Princeton wouldn't let Newman pass. Princeton outgains but they fumbled a punt (from Petoskey) for a safety, and later Ivy blocked a punt at the 10, Bernard recovered for a TD. FINALLY Newman completes a pass, to Ward for a TD, but missed the PAT. Michigan gets an INT to stop a final Princeton comeback drive with <1 min.
7-0 Indiana:
EVERYONE is injured after Princeton. 0-0 all first half until Newman returns a punt to midfield then QB Draw gets him 34 yards downfield, and a QB outside run gets the score.
Chicago 12-0: Last game with Stagg, who's turning 70 and that means he's out. Chicago going downhill as the tweeds take over. 1905 team is on hand to give him a jar and some plates for beating the Point a Minute teams.
Minnesota 3-0: Michigan travels with fake jug (rediscover it in 1933). As an example of Wolverine teamwork, a United Press story pointed to a fumble in the Minnesota game. "Michigan recovered, with both Ted Petoskey, end, and Charles Bernard, center, at the bottom of the heap. Bernard credited Petoskey. Petoskey said Bernard recovered."
4. THE FUTURE, AND WRAP
(starts at 1:56:01)
No concept of one national champion—Michigan is the Big Ten champs. Big Ten was considering removing their postseason ban—the PCC wants to invite Michigan back to the Rose Bowl, and fans cared a lot about it, but the league dragged its feet and the PCC invited Pittsburgh instead after waiting as long as you could ask (damn you Big Ten!). People are pissed Michigan doesn't get to go, and this gets the ball rolling on a Big Ten/Pac Ten Rose Bowl deal.
1933 these guys win again, Kipke turns down offer from Yale. 1934 huge drop-off, win just one game, but it's the Georgia Tech game when GT wanted Willis Ward to sit and the Michigan campus wasn't having it. Ward does sit, GT has to sit one of their guys (this guy is pissed about it the rest of his life), Gerald Ford was certainly friends with Ward but this becomes legend when Ford runs for president. The rest of the '30s Michigan falls apart after the board gets together and Kipke gets fired. He's not ostracized (he becomes a regent) but the slush fund from the athletic department is exposed, illegal summer practices exposed, relationship with Harry Bennett (Henry Ford's toughman), but Kipke recruits #1 overall recruit Tom Harmon right before Kipke's gone. Harmon was clearly getting funded (and sold gum on campus). Crisler gets Michigan back on track in '38, needed a by-the-letter guy (a Beilein if you will). Crisler notably left out of the Carnegie Report. 
--------------------------------------------
MUSIC
"How You Want It Done"—Big Bill Broonzy
"Searching the Desert for the Blues"—Johnny Otis with Little Esther & the Robins
"Was That the Human Thing To Do?"—The Boswell Sisters
"Across 110th Street"