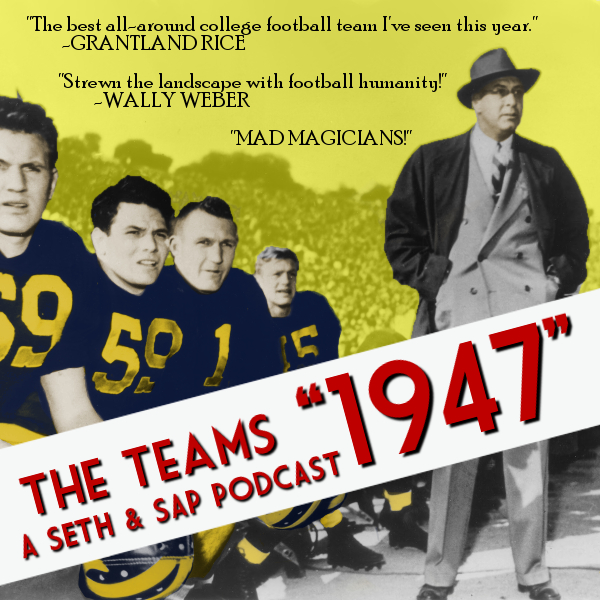 2 hours and 2 minutes
Seth and Dr. Sap bring you a podcast about Michigan's greatest teams. This episode: The Mad Magicians of 1947.
Previously: 1980, 1999, 1901, 1964, 1976, 1925
THE SPONSOR:
It is sponsored by HomeSure Lending. If you're buying or refinancing your home, this is the guy to talk to. He'll work on your loan directly and walk you through a process that can get really confusing really fast. I used him. Brian used him. Everyone else who used him is glad they did.
[Description, diagrams, some video after the JUMP]
--------------------------------------------
1. FRITZ AND HIS MAGICIANS
(starts at 1:00)
Fritz Crisler: the John Beilein of Michigan football. Headed the rules committee, put wings on Michigan's helmets, and made Michigan the non-cheaters they would more or less remain until today and certainly were not before. The War: 1945 Army game and Crisler invents the platoon system. He also uses the War to replace his players with soldiers stationed at Michigan's various programs. Michigan's 1945 team was tiny and young, and the 1947 team was those guys as juniors and seniors PLUS the war heroes who came back. The Mad Magician offense: base power out of the single-wing, tons of screens, reverses, spinning fullback. Has a lot in common with the Army offense we just saw..
2. THE TEAM THE TEAM THE TEAM
(starts at 21:21)
3. INTERVIEW WITH CENTER DAN DWORSKY
(starts at 57:23)
One of the great products of the University of Michigan, Dworsky designed Crisler Arena, LAX, and a bust of Crisler. He was also one of two great linebackers of his day, with Penn's Chuck Bednarik, though Dworsky was probably better. We get him on the phone and share his recollections of this season.
4. THE GAMES, THE GAMES, THE GAMES
(starts at 1:09:59)
Blow out MSC, blow out a very good Stanford and Pitt (69-0!) to climb to #1. Tight game with Northwestern until the offense explodes in the second half, tight game with Minnesota and another with Illinois. Just 6 points (by Wisconsin, during backup hour, in a 40-6 win) given up the rest of the season.
5. ROSE BOWL, VOTING, WRAP
(1:40:27)
Michigan takes the train to Pasadena and beats the crap out of USC
Heisman vote: Johnny Lujack of ND wins it (that's sorta fair) over Chappuis. ND gets the #1 nod after the regular season (with some help of some #4 and #8 votes for Michigan from Southern media mad that Michigan plays three African-Americans), but a re-vote after the Rose Bowl puts Michigan on top. Assessing Crisler as he retires and leaves Bennie Oosterbaan in charge.
--------------------------------------------
MUSIC
"Near You"—Francis Craig and His Orchestra
"Temptation"—Perry Como
"Hawaiian War Chant"—The Don Ralke Chorus
"Loaded Pistols, Loaded Dice"—Roy Brown
"Across 110th Street"