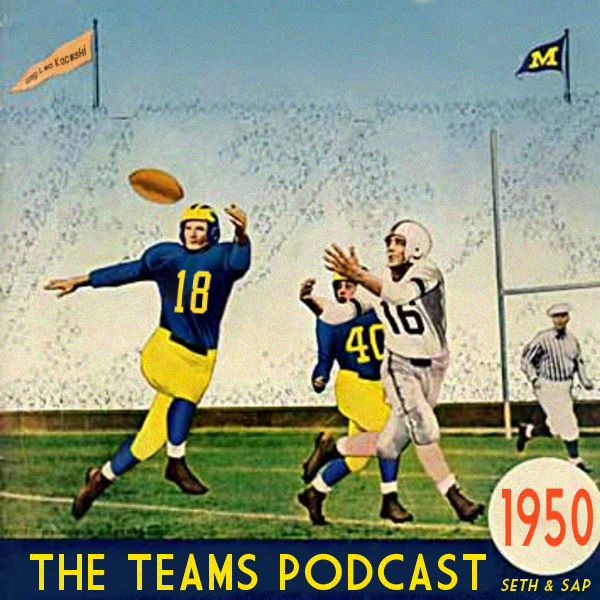 Seth and Dr. Sap bring you a podcast about Michigan's greatest teams. This episode: certainly the weirdest season ever.
Previously: 1901, 1925, 1947, 1964, 1976, 1980, 1999
THE SPONSOR:
It is sponsored by HomeSure Lending. If you're buying or refinancing your home, this is the guy to talk to. He'll work on your loan directly and walk you through a process that can get really confusing really fast. I used him. Brian used him. Everyone else who used him is glad they did.
[Description, diagrams, some video after the JUMP]
--------------------------------------------
1. MIDCENTURY FOOTBALL
(starts at 1:00)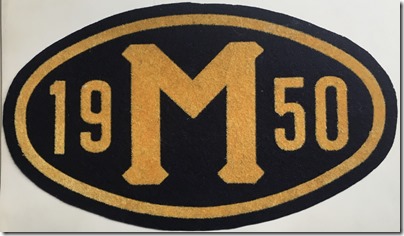 From T-Formations to the Korean War and replacing rosters of war heroes with regular ol' sophomores, we look at football as it stood in 1950. Southern football is on the map, and programs are spending insane (for that time) amounts of G.I. Bill money on building projects, especially for their football teams. Recruiting is a thing, but not at Michigan. New facilities are a thing, but not at Michigan. Revamped passing games, War babies, bowl games, the new Coaches Poll, and your fists have to be in on your chest now.
2. THE TEAM THE TEAM THE TEAM
(starts at 20:41)
BACKS:
Bill "ol' One-Play" Putich for his 1 TD pass vs MSU. Not a great QB but smart. Was later moved to HB and was captain in 1951. VERY young--he turned 18 this season, as a junior. Real concern that Army was going to draft him ahead of the game. FB: Don Dufek: Chicago. Dad of Don, Bill, and Joe. Team MVP. They know him at Grand Valley as the AD who turned around the department. 702 yards on 174 carries (4 YPC) and 8 TDs--really he was averaging 5 YPC except that OSU game when he had 14 carries for 9 yards. LHB Chuck Ortmann: Star in '49 until he was concussed against Army. Hampered by back injury in '50 (could hardly bend over). RHB Leo Koceski: Was more of a slot role, see interview.
Backups: HB Don Peterson (5'10/175) charging for Leo's job from the start. LHB: Super sophomores: "mighty mites" Frank Howell (5'8/155) (also 3rd string LHB), Wes Bradford (5'6/155) and Don Oldham (5'8/166). Oldham in for Ortmann but awful fumble.  Also Dan Hill who was compared to the shifty return specialist Gene Derricotte. QB: Ted Topor, blocking type, converted fullback. Bill Billings (Flint), passer, go-to signal caller, good punter. Tom Witherspoon is a defensive specialist.
ENDS:
Sophs expected to take over. Nervous about this position though there's hope for Perry. LE Lowell Perry (Ypsilanti, teammate of Hill), Fastest guy on the team, end-around maven, quick passing games, and makes guys miss. Also an excellent safety. RE Harry Allis: Longtime starter, stalwart. LE on defense is Ozzie Clark who's also a good TE, a big quasi-tackle. Big game against Ohio State. Backups: Sophs Fred Pickard, a combo TE, and Merrit Green on defense.
LINE:
Offensive C Carl Kreager. 6'4/220. Won't wear gloves. Backup: John Padjen 5'9/180, plays C and G. Started football program at TF South in Chicago, his son Tom was HC for 40 years, and grandson John is now HC. RT Al "Brick" Wahl. Star of the team, captain, All-American. Nephew of Herb Stager. He came to Michigan in 1945 from Chicago but joined the Army that summer and missed the '46 and '47 seasons so he's now 23 years old and a vet. LT Tom "Big Gun" Johnson born in Chicago but from Muskegon heights. Washed dishes, competed in football and track. Was Alvin Wistert's backup but by the time he graduated he was one of the greatest tackles in Michigan history (more on defense than offense). Second African-American to play for the Packers, after former teammate Bob Mann a year prior. LT Bill Ohlenroth: Plays when Johnson needs a breather. Defensive RG Tom Kelsey (a converted end) and later soph Jim Wolter are playing a hybrid DL/LB position. Swing OL John Hess Sprained ankle vs Minneosta. OL Ralph Stribe moved to G this year because T was strong. Defensive LG Dick McWilliams: best MG in the country. 6'3/248 and immovable.
LINEBACKERS:
C Roger Zatkoff (Hamtramck), super sophomore, Meyer Morton Award, has to replace Dick Kempthorn "a 215-pound converted fullback, is a bone-crusher of the Kempthorn school. FB Tony Momsen, moved over from center, punted, blocked OSU punt and recovered it. Backups: Ted Topor (6'0/215) the blocking fullback, and Dick Strowzewski, who also plays T.
3. INTERVIEW WITH HALFBACK LEO KOCESKI
(starts at 38:10)
Recruiting in the late '40s, the training table rules, coming up under the Mad Magicians, Fritz Crisler's retirement, the Korean War, Dan Dworsky on the piano. The time he tried kicking. The '49 team and the comedown as the next wave takes over.
4. THE GAMES, THE GAMES, THE GAMES
(starts at 1:17:33)
Toughest season you can get, with most of the Top 10 on the docket, starting with #9 Michigan State College, "The Football Factory" which had recently been admitted to the Big Ten and immediately placed on some kind of double-secret probation, but beat us . Dartmouth was a good team in '49 but lost a lot of guys, Michigan wins 27-7. #2 Army at Yankee Stadium began the cascade of injuries, beat Michigan 6-27. #16 Wisconsin was a nice homecoming game after the 1-2 start, a 26-13 win. But then a trip to #14 Minnesota ends in a 7-7 tie with Michigan routinely stuck on the doorstep, and an 0-7 loss to #10 Illinois in the snow is a season-killer. Or is it? Indiana goes away 20-7, and Michigan defeats a tough Northwestern team 34-23, the only giant not to lose to them. And then there's the snow bowl.
5. ROSE BOWL
(1:51:01)
Michigan takes the train to Pasadena and beats #5 Cal. Why yes of course Sap has video of it!
Cal controls play in the first half but has their first huge run called back for an illegal formation, and misses an extra point try. Michigan figures out the trick to a team that cut blocks all the time: step back a yard at the snap then go over them. Michigan also learns the short passing game and takes it down the field to deep in Bear territory. Dufek took over from there.
6. WRAP
(2:04:18)
It will be some time (1964) before we have another Michigan team to profile, so Sap and I go into the future, where Michigan's facilities and hamstrung recruiting are falling behind the rivals, Woody Hayes is building a dynasty in Columbus that still hasn't really gone away, and we preview a coming fight over the Athletic Department head job that'll set the course of Michigan history for the rest of the century.
--------------------------------------------
MUSIC
"The Third man Theme"—Anton Karas (you should see this film if you haven't)
"Double Crossin' Blues"—Johnny Otis with Little Esther & the Robins
"If I knew You Were Coming I'd've Baked a Cake"—Al Hoffman, Bob Merrill, and Clem Watts, performed by Eileen Barton
"Let It Snow! Let It Snow! Let It Snow!"—Sammy Cahn and Jule Styne, performed by Frank Sinatra
"Yipsee-I-O"—Ray Gilbert, performed by Carmen Miranda with the Andrews Sisters
"Across 110th Street"
THE USUAL LINKS
Clearly the ball either had the plague or halitosis