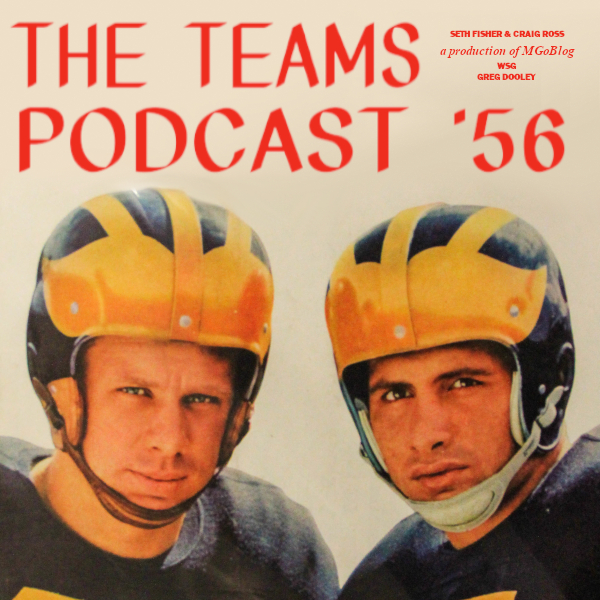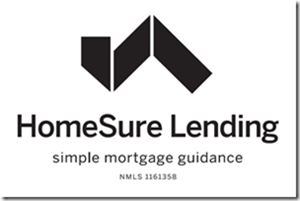 The Sponsor: If you're buying or reselling, talk to Matt Demorest at HomeSure Lending now and see if you can't lock in a low rate while it lasts. He's a rad dude, and hasn't recently made MSU change its name or made you listen to Dickie V for five minutes in the middle of a broadcast.
Previously: 1879, 1893, 1901, 1918, 1925, 1932, 1940, 1947, 1950, 1964, 1973, 1976, 1980, 1985 p.1& p.2, 1988, 1991, 1999, 2003, 2011 p.1 & p.2
[Writeup and player after THE JUMP]
1. Football in 1956
(starts at 1:00)
F. Scott Fitzgerald was a super weird fan. Eisenhower vs. Stevenson. Platooning is out, T-formation passing and facemasks are in. Rose Bowl has a no-repeat rule. Ohio State is banned from the postseason. The Pac falls apart because every school is selling each other out. Everybody's playing each other. Racism: South is still segregated, North has an unofficial quota system so every team has one Black guy. At Michigan: Slippery Rock scores, a dog that makes a dashing goal line stand, and the Salk polio vaccine.
2. Fucking Kramer
(starts at 31:34)
courtesy Peg Canham-Keeley (left)
Had a sweeter shooting stroke than Caleb Houstan. Created the modern tight end who's both offensive tackle and downfield receiving threat. "It was like having a license to play 12 guys" –Lombardi. At his funeral they asked the assembled "Who's ever been kissed on the mouth by Ron Kramer" and everyone raised their hand, including the media, and Don Canham's wife. Was to Michigan fans of his day as Denard is to modern fans. Never lifted a weight. "Big" scandal before 1956: his GPA is a 2.01 because Michigan just gives solid letter grades, but you need a C+ average, and Look Magazine reports Kramer shouldn't be eligible.
3. The Team Besides Kramer
(starts at 00:00)
The size of squads are just starting to balloon in this era, and Michigan is up to 60 players from 40 two years prior and 32 two years before that. Team was made of ends, I guess because they all wanted to play for Oosterbaan the way Juwan Howard has all the bigs. Tom Maentz is 6'3/210, Kramer is 6'3/216 and four guys they can play behind them. Jirm Orwing and Al Sigman are vets but they're hoping Willie Smith "who rocks the scales at 237" pushes Sigman. Agile and speedy guards in Dick Hill and Varv Nyren. Hill already a star. No depth--moved a guy from end.  New center is Mike Rotunno who also switched from End. They get back Gene Snider who started in 1954 but was ineligible in 1955 and is a solid linebacker. Big backfield with Herrnsten (6'2) and Ptacek (6'1) coming up from freshman. Nobody's much of a passer they worry. Ptacek ("Tah-check") is a "locomotive" type and their best passer. Pace is the better runner but not a great defender, gained 10 pounds in the offseason.
4. The Games, Part I
(starts at 1:3259)
9/29: #7 Michigan 42, UCLA 13. UCLA finished #4 in the AP last year after losing a close Rose Bowl to MSU, but PCC sanctions came down and all of the 1955 starters were ineligible to play for half a season. Sanders staggered all of their suspensions. Stars were back Donnie Long, Guard Esker Harris, Center Jim Matheny, and back Bruce Ballard. They were a single-wing team as well but passed a lot, going 9/22.  UCLA had four fumbles. Michigan just ran the ball for 234 yards. Went 4/9 passing including a 70-yard TD to Ron Kramer from Terry Barr. Kramer and Maddock each kicked three XPs.
10/6: #5 Michigan 0, #2 MSU 9. Duffy's 3rd season, coming off their 9-1 1955 "national championship year" when they only lost to Michigan and won a fantastic Rose Bowl that ended on a last-second field goal the kicker thought he missed and the ref had to convince him otherwise. Again game played in Ann Arbor--1953 was last time we went to EL but they had just added 9000 seats and were planning to add the 2nd decks in 1957. Coming off a 21-7 win over #12 Stanford, so this is a game of top 5s. Got over 100k in the stadium (101,001 is the listed and the capacity). State has Clarence Peaks, who went 7th overall in the draft.
Michigan dominates statistically but can't punch it in, Herrnstein throws an awful INT setting up an MSU field goal. Herrnsten fumbled in the 4th Q and set State up at the 21, and they scored for the 9-0 score. Reel is on youtube.
10/13: #12 Michigan 48, #15 Army 14. Second year in a row playing at Michigan Stadium, shows how far Army's fallen? Big game that draws a national audience despite both teams falling to Tier #2 by now.
10/20: #8 Michigan 34, Northwestern 20. Ara Parseighian's first year, they used to yell "Rose Bowl!" if they got a first down.
10/27: #5 Michigan 7, Minnesota 20. WTF! Big upset on homecoming. Michigan scores quickly then Injuries: Lost Terry Barr (ankle) Kramer starts playing cornerback on defense for him. Pace, Orwig, and Hill went out. Time ran out at the end of the 1st half with Michigan on Minnesota's 4 yard line.
Minnesota's "blitz offense" took over in the 4th Q after Michigan had a 7-0 lead at halftime and 7-6 lead at the end of the 3rd Q. Ran a hurry-up offense from the Wing-T and Michigan's "defensive timing was thrown off" by it. Two last-chance drives ended on downs to set up another Minnesota score, and the last drive ended on an INT in the endzone. Box score shows the yards and stats were close.
#1 Michigan State was upset by 1-3 Illinois the same day, which meant Iowa and Ohio State were the only undefeated/untied B10 teams (Minnesota had a tie with NW)
11/3: #17 Michigan 17, at #7 Iowa 14. Check out the route to get there:
Remember this the next time you're crying bored on I-94. Forest Evashevski's Iowa--only game they lost all year, second year in a row M was the only loss of the Rose Bowl winner, and 4th close game in a row he lost to his alma mater.
No wonder the guy went nuts. Mike Shatusky, 3rd string RHB scored two second-half TDs to bring M back from down 14-3. Last one was at 1:06 in the game.
Best UM played all year, coming up in big moments.
5. The Games, Part II
(starts at 2:14:37)
11/10: #10 Michgian, Illinois 7. Wing-T team with a great backfield and one great guard. Revenge for the loss in 1955. This was a weird year for Illinois--two ties and lots of very close games, beat #1 MSU and Cal in a 2-5-2 season.
Star cornerback/halfback Abe Woodson (who became one of the best kick returners of the 1960s in the NFL) had three second-half TDs and also set hurdles records. RB Dale Smith was good too, and UM was focused on stopping Bobby Mitchell and Larry Jefferson who'd torched them in '55. Smith scored on a left pitchout on their first drive--just a great individual play--but Michigan tightened up and ran all over them (328 yards, 120 from Pace). Took control on a Statue of Liberty play on 4th and 4 at the Illinois 12.
Crowd cheered when Iowa beat Minnesota, which kept Michigan in the Big Ten title race (needing help from OSU to beat Iowa). Also we hate Minnesota. Would have been extremely unfair for M to go to the Rose Bowl--it was based on wins and Michigan had a 7th Big Ten game.
11/17: #10 Michigan 49, Indiana 26. Offense took over, but only 58,515 showed up (still a record for attendance, 566,093, breaking the 1949 record by 3k.)
Kramer made one of his "miracle catches" and was all over the place, including a Woodsonesque interception and two more bat-downs in keeping IU's QB Steve Filipowski to one reception. Nobody mentioned the Heisman.
Bittersweet win because Ohio State lost to Iowa, which gave Iowa the Big Ten championship. Michigan, with a win over Iowa and an extra Big Ten game, would have been able to go with a victory over Ohio State next week.
11/24: Michigan 19, at #12 Ohio State 0
Rivalry becoming #1 for Michigan? Blanking OSU isn't even above the fold in the Daily!!!! But 10k rooters went. Clearly the #1 for OSU:
"For the almost fanatical Ohio crowd, the defeat meant "a poor season." In Ohio, the Michigan-Ohio game often means the success or failure of a whole year. Also the Buckeyes "only" won six games this year.
Woody Hayes in Year 6. OSU was playing for a 3rd straight Big Ten conf title.
SCANDAL: OSU gets a slap on the wrist: Big Ten investigated Woody's loans to players, Woody refused to provide any accounting of his loans. Investigation also found "serious irregularity" in their off-campus work program. Probation for one year and ineligible for the Rose Bowl, which they weren't eligible for anyway. Tragically talented: Woody has a great line and backfield (11 guys drafted). One of those players is Jim Parker, the best G in the country. Outland winner. Went 8th overall and tackle Bill Michael went 16th overall.
Woody is so confident he won the toss and chose the wind (that's not deferring--M got both kickoffs).
Fumble luck favors Michigan: OSU lost all 4 of theirs, Michigan recovered all three of theirs. But Michigan's defense knew Woody was going to keep it to the ground and tightened up against the run, playing Kramer like a Viper. Kramer is outstanding in his final game. Literally flying through the air on some of his tackles.
Delicious Woody tears:
On Ohio State fans.
Wrap: Heisman vote this year was LUDICROUS. Everyone but Tennessee fans and the worst Domers agrees who should have won.
--------------------------------------------
MUSIC:
"Green Door"—Jim Lowe
"Why Do Fools Fall in Love"—Frankie Lymon and the Teenagers
"I'm in Love Again"—Fats Domino
"Long Tall Sally"—Little Richard
"Across 110th Street"