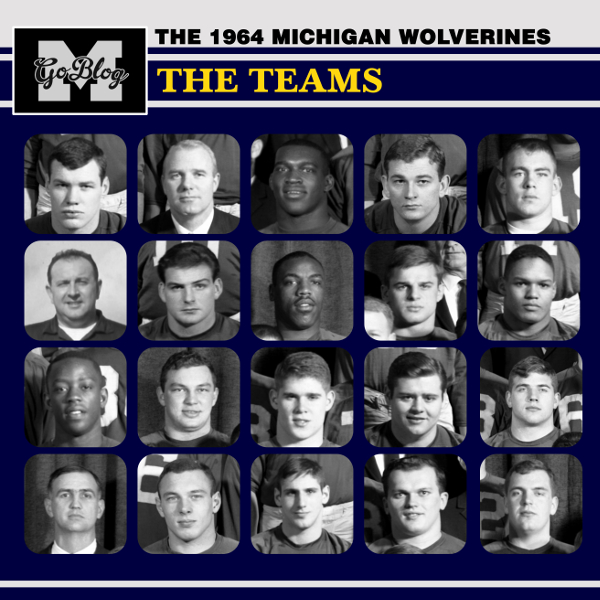 We're going to have to throw out a parental advisory because there's no way to quote Jim Conley without f-bombing U.S. 23 from one end to the other.
Michigan historian Dr. Sap and I have started a new podcast on the lore of Michigan football. For this one we got two members of the '64 team, starting defensive tackle John Yanz, and backup receiver Tom Parkhill.
The Sponsor:
It is sponsored by HomeSure Lending. If you're buying or refinancing your home, this is the guy to talk to. He'll work on your loan directly and walk you through a process that can get really confusing really fast. Stop by his new office in Ann Arbor at 2100 S. Main.
--------------------------------------------
1. The Setup
(starts at 1:00)
The world of college football in 1964. 1962 was so bad they needed a banner to feel better. 1963 was better but didn't look like it. And then everything came together while the greater college football world was turning the game into a battleground for the Civil Rights Movement.
2. Where Did They Come From, wsg John Yanz
(starts at 19:14)
We talk to starting defensive tackle John Yanz about who these guys were. The first truly platooned Michigan team (where the defense didn't even learn the offense's plays). They came from Ohio and Chicago, mostly—recruits who signed on for Bump Elliott's rebuild of the flagging Oosterbaan program. Also a discussion on TV money, the NFL, and the Civil Rights Movement, and how these factors were all changing the college football landscape.
Here's the Daily article Yanz mentioned.
3. The Games, wsg Tom Parkhill
starts at 1:11:55
Parky was a deep bench offensive end (wide receiver) who got to sit in the booth with Bob Ufer for a game. A third of the team was from Ohio, including the entire starting backfield. Season begins by losing their best player, Jack Clancy, who's the oddball 1,000-yard receiver 40 years before Braylon in this chart:
The games:
Air Force (W, 24-7): Jim Detwiler finds out he's starting the morning of the game, breakout star.
Navy (W, 21-0): Shut down reigning Heisman winner Roger Staubach and the best backfield in the country
Michigan State (W, 17-10): State, the "Underground Railroad" team, just lost in the first integrated game in the South, beat #2 USC. Michigan down 10-3 with 7 minutes left. Then Michigan got funky.
Purdue (L, 21-20): Bump would go for two again but his great regret is he asked Timberlake to muscle his way for a two-point conversion after a 54-yard run. One inch short of perfection. Also Dave Fisher fumbles the ball (still claims he didn't, but he did), Break for some Conley stories. Michigan doubled up Purdue in yards but three turnovers, missed XP: fluke.
Minnesota (W, 19-12): Homecoming, Jug hadn't been home for five years. Big goal line stand ends with an amazing Yearby stop.
Northwestern (W, 35-0): You can't pass against Rick Volk.
Illinois (W, 21-6): Literally little brother! Bump's younger brother Pete did what 1964 Michigan did with Illinois in 1963, and brought the literal Dick Butkus. Also the first team to use helmet decals. Conley and Butkus have a Woodson-Boston moment.
Iowa (W, 34-20): Gary Snook.
Ohio State (W, 10-0): Know your guys down to their molars. Motivational speech is right out of Bo's book. The Buckeye who muffed away the game wanted to go to Michigan but his dad was going to lose his job if he did.
Rose Bowl, Oregon State (W, 34-7): Oregon State's coach said it was the greatest team he's ever faced. The Beavers scored first, and the game was over. Tom Mack wrecked 'em. The third team had a troll of Oregon State planned but never got to run it(!!!)
End of the season: Alabama and Notre Dame claim fake national championships because they were undefeated until they lost their bowl games. Heisman went to ND's quarterback (who wasn't the least deserving Heisman ever). SEC fans think it should have gone to Namath even though the All-American first teamer was Timberlake and Huarte (the ND guy) was better that year. Our votes: Michigan is 2nd to Arkansas, Butkus is the Heisman.
4. Wrap, Superlatives
(starts at 2:25:52)
One inch from perfection: where do they fit in the great Michigan teams in history? MVPs of offense and defense. Bob Timberlake as the guy we want Dylan McCaffrey to become. Jim Conley/Jim Harbaugh throwdown.
--------------------------------------------
MUSIC
"Where Did Our Love Go"—The Supremes
"I Don't Want to be a Loser"—Lesley Gore
"Little Old Lady from Pasadena"—Jan & Dean
"Across 110th Street"
THE USUAL LINKS