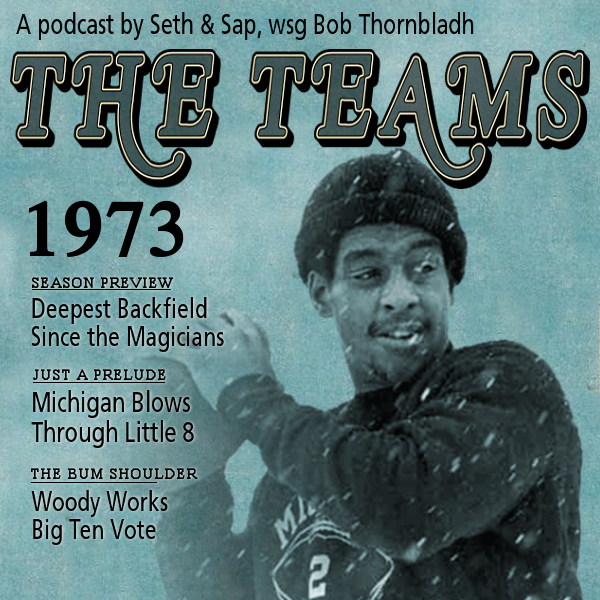 The Sponsor: Odds are you're going to be spending a lot of time at home in your underwear—what if you could be paying less for that home? Use this time there to refinance: talk to Matt Demorest at HomeSure Lending now and see if you can't lock in a low rate while it lasts. In addition to being more ethical, knowledgeable, hands-on, intelligent, and fun to work with, Matt's crystal ball is 100% solid blue.
Previously: 1879, 1901, 1918, 1925, 1932, 1947, 1950, 1964, 1976, 1980, 1988, 1999
Special Guest this Week: Bob Thornbladh, former fullback, former Michigan assistant coach, and former Michigan broadcaster. As you might have guessed, he's got a lot to say.
1. WATERGATE AND PUNK ROCK
(starts at 0:50)
It's Year Five in the Ten Year War. The height of Big Two, Little Eight. 1972: Michigan wins every game, the officials blow Harry Banks's TD dead inside the 1, and Bo goes for the win (FG would have gone to the Rose Bowl?). 1972 was the first year freshmen were eligible so the sophs had mostly played and there were redshirt freshmen. 1972 is when Title IX was enacted. Goes into effect in 1973.
New staff: Jim Young leaves for Arizona, taking Mike Hankwitz with him. Replaced with Jack Harbaugh and Elliot Uzelac. What did they do with Tirrel Burton?
National powers: Ohio State, Nebraska, Alabama, USC, Oklahoma, Notre Dame, Penn State, Texas.
2. THE TEAM
(starts at 18:32)
[Hit THE JUMP for the player and rest of the writeup]
3. THE GAMES
1:06:33: @IOWA 31-7. Rainy and fumbly. Don't worry, Jack Harbaugh.
1:13:30: "STANFORD" 47-10. MMB goes co-ed. Vengeance is mine, sayeth The Leg.
1:19:13: NAVY 14-0. Eugene Robinson's column about firing Bo. One team runs a West Coast passing spread and is worried about stopping the no-run triple-option. The other team is Michigan.
1:26:29: OREGON 24-0. Franklin sits, Cipa passes, Chapman's short.
1:30:07: @MICHIGAN STATE 31-0. Gerald Ford's nomination, splish splish State fumbles.
1:38:17 WISCONSIN 35-6. Shutout streak ends on freak play late. "Thornbladh at LG broke loose for 31."
1:49:16 @MINNESOTA 34-7. The Gordie Bell game.
1:45:21 INDIANA 49-13. The Dog Game.
1:54:20 ILLINOIS 21-6. Bob Blackman comes from Dartmouth. Pass-first with Jeff Hollenbach.
1:57:00 @PURDUE 34-9. 6-3 lead before an animated halftime talk by Bo.
Thornbladh takes us through the offense and how it worked back then.
4. THE GAME
(starts at 2:06:58)
Ten Year War hits its peak. Cornelius Green vs Dennis Franklin: two African-American quarterbacks starting against each other in the biggest game in football. Ohio State is #1 since end of September. OSU led by John Hicks, tears down the banner, gets an early lead. Archie Griffin dominates the first half, OSU builds a 10-0 lead. Michigan fights back and ties it 10-10, clearly the better team, but Franklin goes out. Bo tries a 56 yarder but it misses by an inch.
The Vote: Michigan gets screwed by Woody convincing other ADs, including two Michigan alums, to send the Buckeyes to face a terrible USC team because Franklin hurt his shoulder.
--------------------------------------------
MUSIC:
"Kodachrome"—Paul Simon
"Here I Am (Come and Take Me)"—Al Green
"Paper Roses"—Marie Osmond
"Across 110th Street"