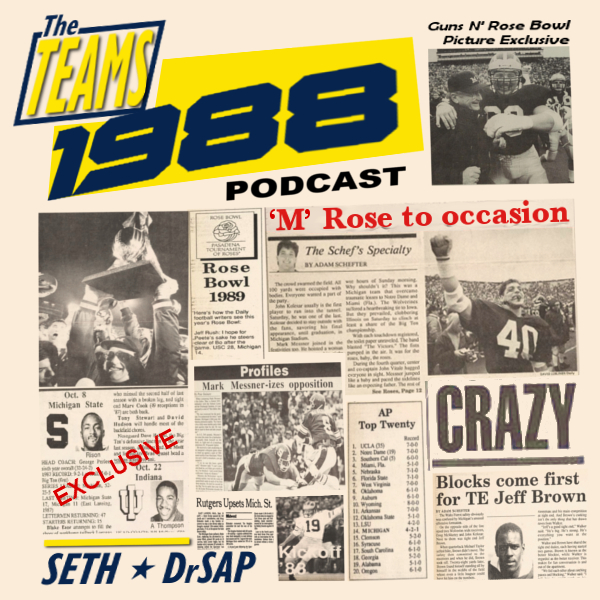 Seth and Dr. Sap bring you a podcast about Michigan's greatest teams. This episode: the season that began in the playoffs and ended as well as it could have. Our special guest: Mark Messner!
Previously: 1901, 1925, 1932, 1947, 1950, 1964, 1976, 1980, 1999
THE SPONSOR:
It is sponsored by HomeSure Lending. If you're buying or refinancing your home, this is the guy to talk to. He'll work on your loan directly and walk you through a process that can get really confusing really fast. I used him. Brian used him. Everyone else who used him is glad they did.
[Description, diagrams, some video after the JUMP]
--------------------------------------------
1. THE EIGHTIES
(starts at 1:00)
VCRs, Cable TV, and the golden age of Independents. Michigan is coming off a horrible 1987 with ALL the turnovers, has a quarterback controversy, and is sharing Bo with his Athletic Director duties. Meanwhile the cheating is rampant, the recruiting is national, and Ohio State just dumped their 9 wins a year coach for the hot new thing because John Cooper had just beaten Michigan in a bowl game.
2. THE TEAM THE TEAM THE TEAM
(starts at 26:04)
​
Bo's first nationally recruited team. The quarterback panic of 1984 leads to a class of five guys, Taylor the steady hand, Brown the super talent. Speed with Tony Boles and nobody can tackle Leroy Hoard. Return two smallish speedsters outside in Kolesar and Calloway, with leaping Greg McMurtry pushing his way into the lineup. Two big blocking tight ends with surprising receiving ability. And then that line: All-Americans John Vitale and Mike Husar, huge Greg Skrepenak and Tom Dohring, and a young Dean Dingman.
Defense was a 5-2 that now called itself a 3-4 because it was easier to recruit linebackers than ends. Messner is now the leader inside. They're little but they get after it. J.J. Grant is a tackling machine, Erick Anderson displaces John Milligan, who's a better cover linebacker. Bobby Abrams and Alex Marshall were both Uche types but taller. They trusted big David Arnold at strongside cornerback but never felt comfortable with converted running back David Key and Todd Plate at weakside, with Tony Mitchell coming on as a nickel. Great talent at safety with Tripp Welborne and Vada Murray, but no depth. Mike Gillette assumes both kicking and punting duties, occasionally it seemed to be too much.
3. THE GAMES wsg MARK MESSNER
(starts at 50:00)
We meet Mark and go back through his Michigan career. Start the season vs #1 and #2 in the nation: (2012) yikes! Could have beaten them both.
L 19-17 @ Notre Dame (national champs)
ND gets the first KO return TD, Boles 59-yard KO return, Gillette 48-yard attempt wide right :(
L 31-30 to Defending Nat Champs Miami
Fake to Boles who dives over the pile and they all believe it, Michael Taylor turned loose, was playing unconscious . Tip off Miami 43 and Vada Murray intercepts. Michigan up 30-17 with 7 minutes to play, but then…ungh. Miami goes Tempo: TD, then next drive two M defenders run into each other and Miami goes all the way. Miami gets the onside kick, kicks GW field goal.
W 19-9 vs Wake Forest
Offense derping around. Wake takes a 3-0 lead in 2nd Q. Tripp Welborne drifts off coverage and intercepts Tony Boles on the edge. Messner safety! These are all Seth's memories because Messner is like "We played Wake Forest?"
W 62-14 @ Wisconsin
Tony Boles off to the races on the first play from scrimmage, grab 20-0 lead on an option pitch to him, and then he outraces everyone again to make it 34-0. "Seems like we've been on that field a couple of days."
W 17-3 vs Michigan State (defending B10 champs)
State returned most of their defense from the Rose Bowl team a year before, but LOST TO RUTGERS and comes into this game winless. 10-0 lead at halftime and then Taylor throws a pick near-six (5 yard line) and M has a goal line stand Gillette punt blocked and returned for a TD but MSU offsides (Sparty No!) THE GILLETTE FAKE PUNT! 40 terrifying yard.
T 17-17 @ Iowa
Iowa "injuries" are the story all season but they're all back. Iowa ran Harbaugh's drop-and-draw. Iowa fans are deafening, Bo is livid at the ref because they called a delay of game on Taylor after Taylor wanted refs to quiet the crowd. Bo got a 15-yard penalty "called him a bad name." Michigan scored anyways. Corner to Kolesar ties it up, Michigan has come back.
M at the Iowa 1 yard line, Tracy Williams fumbles on the 1.
"If had occurred later on in the season, Leroy Hoard would have had the ball."
W 31-6 Indiana (Big Ten title contenders)
Leroy Hoard comes through in practice. Bo was yelling at the defense because they were doing a lousy job tackling him. Then it struck him a lot of defenses were having that problem. Hoard takes the first series for a long TD McMurtry reverse to Calloway.
W 52-7 @NWestern
Just up 17-7 and Bo was furious at halftime. Kolesar in the early 2nd half long return, blowout is on. End around to Kolesar too.
W 22-7 Minnesota
Rainy miserable day. First possession Taylor throws an INT and breaks collarbone. Demetrius Brown (16 interceptions in 1987). Ball is wet. It's cold. So they went conservative. Gillette gets 5 FGs in the pouring rain. Messner held the jug: "THAT was cool!"
W 38-9 Illinois
Illini had upset IU so this is for the Big Ten championship! Had a good D, good passing QB, good RB, shit OL Fake punt to Erick Anderson works. Bo goes to his old 1969 Wishbones and grinds them down.
W 34-31 Ohio State
Welcome Cooper Era. Bo thought M was lucky to keep OSU off the board in 1st half. Gillette 56-yarder before the half. Defense struggled in the 2nd half but Leroy Hoard behind Dingman and Dohring takes back the lead. OSU up again, kicks off to Kolesar who takes it to the OSU 41->62 yard return.
Down 31-27, Brown lobs to Kolesar who is Jeremy Gallon. At about 48:50 here: "There is no Co."
4. ROSE BOWL and WRAP
(starts at 1:35:49)
When Bo watched film on them he thought they had a great defense but Michigan did things well that USC . USC is a big, cumbersome team at the tackles, Bo's quick little defenders (eg Messner). M playing crappy to start, missed 2 field goals. Rodney Peete getting outside on them. Safeties come down against the run. Kolesar escapes a big TFL and turns it into a 16-yard gain.
USC fumble, M goes down and goes up 15-14. Hoard takes over, big run, coverts a 4th and goal. Milligan game-sealing INT.
So what are they? 1980? The reason Seth became a big Michigan fan?
--------------------------------------------
MUSIC:
"Don't Believe the Hype"—Public Enemy
"Teenage Riot"—Sonic Youth
"Tribute"—The Pasadenas
"Across 110th Street"
THE USUAL LINKS