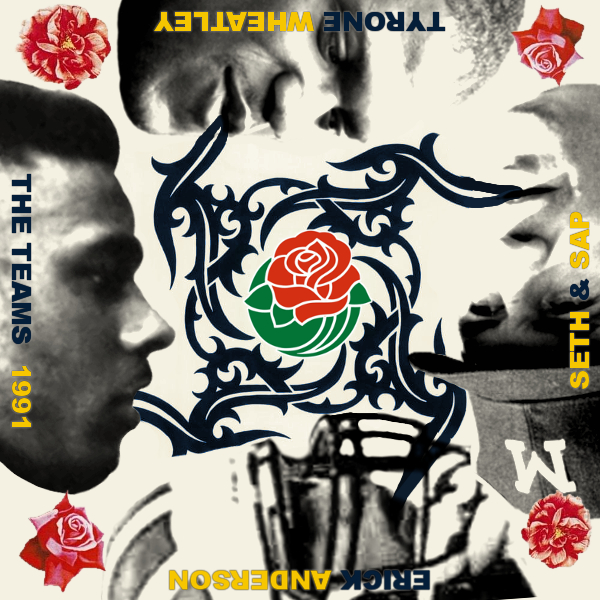 How many times have you been mistaken for Eddie Azcona, Tyrone?
The Sponsor: Odds are you're going to be spending a lot of time at home in your underwear—what if you could be paying less for that home? Use this time there to refinance: talk to Matt Demorest at HomeSure Lending now and see if you can't lock in a low rate while it lasts. In addition to being more ethical, knowledgeable, hands-on, intelligent, and fun to work with, Matt's crystal ball is 100% solid blue.
Previously: 1879, 1901, 1918, 1925, 1932, 1947, 1950, 1964, 1973, 1976, 1980, 1988, 1999
Special Guests: We've got both defensive captain/Butkus winner Erick Anderson, and 1991 scout team running back of the year Tyrone Wheatley!
1. SETUP AND PAYOFF
(starts at 0:50)
Year 2 of Gary Moeller, coming off a year Iowa went to the Rose Bowl after Michigan lost to them and MSU by a point in consecutive weeks. Stadium renovated, back to grass! This one's personal.
2. THE TEAM
(starts at 9:50)
Offense: Elvis Grbac is Dr. Touch. Stacked backfield; Ricky was the cutter, Jesse had the feet, Wheatley had the speed, Legette had no neck. Desmond went into the season #2 to Derrick Alexander, who got hurt and walk-on Yale Van Dyne stepped up. Big, mean, versatile OL. Ty Wheatley's recruiting story.
Defense: Mike Evans is a walk-on from Massachusetts, Lance Dottin's another big time athlete from there. Hutchinson makes everyone look good, Buster Stanley and Tony Henderson were young for NG but great. Athletes in Brian Townsend and Neil Simpson rotate with big Martin Davis. Young corners Dwayne Ware and Alfie Burch and new safeties Otis Williams and Corwin Brown replacing longtime starters. J.D. Carlson's XP streak.
3. THE NONCONFERENCE
(starts at 55:04)
Slow BC start and constant big plays getting called back: no panic, just a setup for the Massachusetts guys to shine. Two big-time games: not gonna lose a 5th in a row to Notre Dame, total confidence even on the 4th and 1 call, but ND was full of talent. FSU threw out all the trick plays, including the Transcontinental, had some All-Americans, but Michigan was just as good.
4. THE BIG TEN AND ROSE BOWL
(starts at 1:41:54)
 Team finds itself, offense redesigned not just for Desmond but for scoring quickly so they don't have another FSU. Dangerous MSU and more dangerous Indiana, which needs a goal line stand (suck it Erick's brother!). Sleepy midseason—freshmen hit a wall, coaches keep them motivated for blowouts of Minnesota, Purdue, Northwestern, and Illinois. Ready for everything Ohio State had. Washington was another story—most talented team they played. Cornerbacks playing linebacker, linebacker playing end, and one of the best players of the era at DT.
--------------------------------------------
MUSIC:
"Scenario"—A Tribe Called Quest
"Lithium"—Nirvana
"Breakdown"—Guns 'n Roses
"Across 110th Street"
THE USUAL LINKS