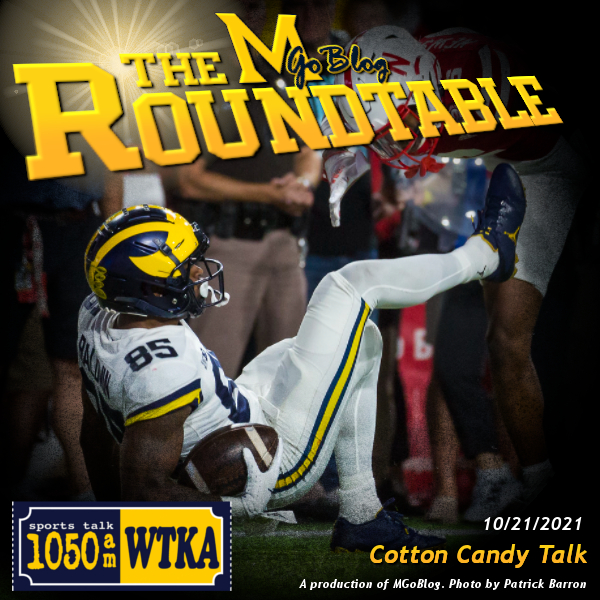 Things discussed:
Sam: "Michigan State has the softest fanbase in sports." <—This Sam talking, MSU fans. Please direct your ire at him.
Northwestern: Their middle linebackers are terrible, they lost Hankwitz and most of their good players. They're on their third quarterback and their second blue chip transfer quarterback from and FBS school in South Carolina.
I didn't get this in because Brian cut me off on the roster breakdown but their slot receiver transfer from Kansas is pretty slick, and WMU is the comp.
Northwestern defense: their MLBs can't take any kind of distractions, so they were good against Rutgers who just does the same thing to you every play, but got ruined by clever offenses like (yes, Sam) MSU's and Nebraska's.
Hoops: Long discussion about Purdue and are they or Michigan the favorites in the Big Ten? Purdue could be really good, can have both centers kill you, have young players popping, and a ceiling as high as Michigan's. In Michigan's favor: defense travels, and they're going to be more consistent, whereas Purdue is going to have nights when the shots don't fall.
Michigan's backcourt: We are loving Bufkin, Jones is going to be an impact guy as a defender. Better than Smith? We think so.
Craig: Michigan fans are going to adore Tschetter.
Hockey: #1 after taking out #4 and #1 on the road (and semi-road). Bordeleau is a savant, and then you have a Kyle Connor (I said Brett Hull) on his wing in Brisson whose one-timer is absolutely lethal.
Power play could challenge for the record, if they can get the calls.
Really impressed with Portillo.
Can play old or young, and play back, giving up only one odd-man rush in a game to Minny State, or attack like they did against LSSU, giving up rushes to get more of them and 1980s you down with their talent.
Would Mel Tucker take the LSU job? Of course. Will he be the guy they offer? Less likely.