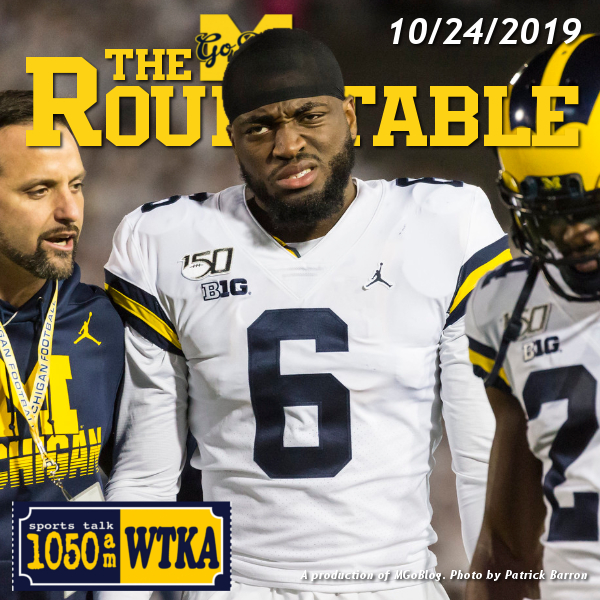 Things discussed:
The weird road game when there's lots of mistakes, and this is still that game despite this being the best game they played all year
Harbaugh killed three drives in Penn State territory or near enough by not going for it on 4th and short
The mugging: can't argue the refs were the difference in this game.
Shea had a good day. Peoples-Jones's drop: two guys open crossing each other in the middle of the field, Patterson doesn't see it, then he rolls out and finds DPJ and the safety rakes it out—that's on Shea. Brian thinks Shea's performance was okay, not great.
Yippee they ran bubble screens and it worked because they've been ignoring it.
Regular screens: why hasn't one worked all year? It wasn't a pick if Charbonnet doesn't trip but it wasn't going to work.
Sloppy play—they still can't handle tempo (which is bad this week).
Sam: RPO illegal man downfield: correct call on Ruiz but PSU has a guy 8 yards downfield who breaks up Hawkins's interception attempt wasn't one. The push-off is 7 points or 4 if PSU gets back in range. The Collins thing! The mugging on 4th down! Need to have officials grading so it's left to people like Craig Ross to grade them.
Notre Dame: Brian says go ask Seth. Ed says they've got those DEs. Ian Book's a good QB. They've been trying to find a running game.
Michigan as they were in the 2nd half last week can beat them, but this is a solid opponent.
Back to Shea: if he has this game in context of a decent season we're down on his PSU game.
Brian: Stop trying to cheer me up and make me optimistic about stuff. It's not going to happen. It's not. It's a one-game season and we're going to get hammered in that game.
Caller: on the ledge, because it's the same old problems every season. Brian: we were hoping Harbaugh would come in and be a top five coach, and we're not there—we're on James Franklin level.
Isaiah Todd: The way Michigan stays as good as they were under Beilein is they recruit better.