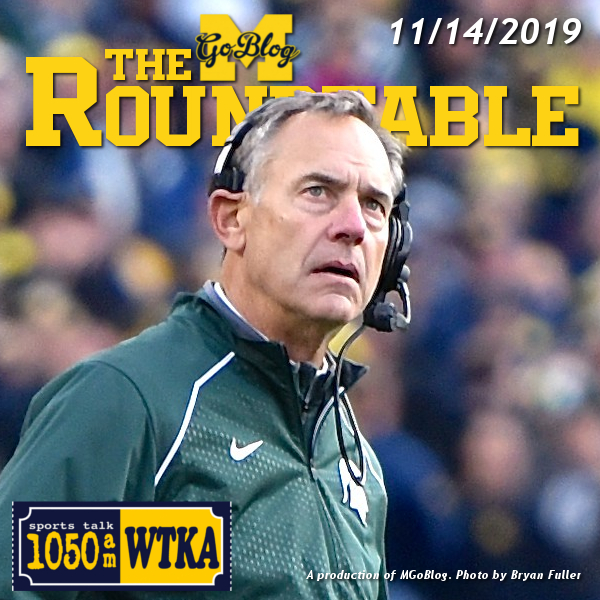 Football things discussed:
State preview: Lewerke is less broken, they're 86th not 128th.
MSU played a better game than Illinois, but for a lot of Sparty Nos.
MSU was running Michigan's arc read—how little brother was that.
State's Brady Hoke Concussion Adventure: they tell the truth that they didn't give a shit if Lewerke had a concussion, then the medical staff is like waitaminute we've got to lie.
Bachie is a huge loss though they have more good linebackers. What they don't have are the elite secondary players.
This is just the cusp: recruiting has been a crater, and they're going to lose almost all of their good players.
KJ Hamler told the announce crew for MSU-PSU he didn't go to Michigan State because people don't come out right up there.
Credit to Michigan State for taking a comeuppance they've deserved for years.
Malik McDowell: everything people were worried about with him came true because he went to Michigan State.
Lloyd Carr did not like Bobby Williams.
Watch the Illinois game: Gotta dial up more shots.
The Dread: last year things felt bad even though Michigan was up a touchdown forever until the DPJ touchdown. But Michigan was still dominating that game.
Basketball things discussed:
App state: Zavier Simpson's worst game since he won the starting job, had a good game against Creighton.
Running sets that Juwan brought from the NBA. In the 2nd half the offense gets better because they're on offense by their bench and Juwan can yell at guys.
Pink Teske: was pretty tired out there—maybe tempo isn't going to help his style. Gave up a lot of OREBs. But Teske iced the game too.
Other things discussed:
Who's Alabama beaten? Brian: They'll have beaten Auburn; that's not as good as the other 1-loss teams. Oklahoma or Oregon is going to have one more win and a conference championship.
Buying Minnesota? Yes they can win the West. But they played even with Penn State, whom Michigan was better than on the road, so they're on our level.
Ed does a Brian impersonation.
Well your numbers are stupid