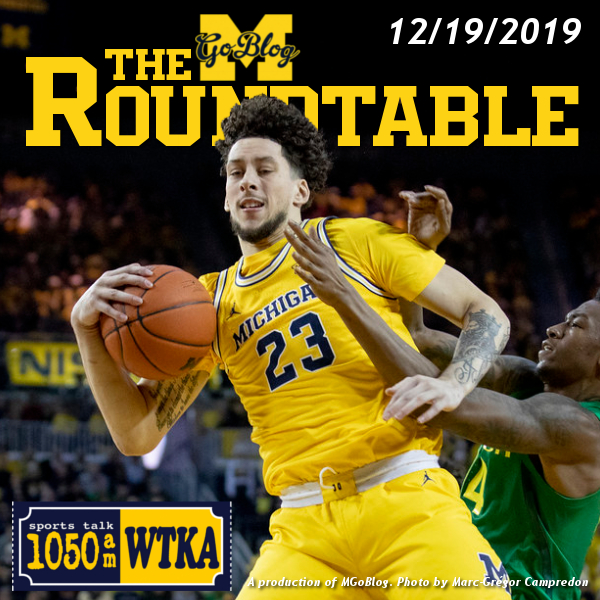 Brian still has bronchitis so he's out.
Football things discussed:
Craig's Underrated All-Stars: Dan Villari=Craig Krenzel. Aaron Lewis: see him as 3-tech or a nose tackle, and thinks he's terrific, will be 280+ when's all said and done, great hands. Mohan!
William Mohan: has the potential to be a McGrone/Bush, Sam says Khaleke because he's so fluid, rated as a safety.
Viper possibilities all have M's: Moten, Morant, Mullings, Mohan
KJ Costello: should Michigan pursue? Probably means losing one or two of the guys they have. Also means keeping him from a rival.
Basketball things discussed:
MSU played just 3 top-50 teams, all with their friendly Big Ten refs, all but one at home, versus 8 that Michigan played, with one at home.
Oregon put up four at-the-buzzer prayers that went in, Michigan was 25% from slam dunks; this was a game Michigan deserved to win, but wasn't good enough to overcome bad luck.
What's a "Juwan Howard" team? High eFG%, low turnovers (on both ends). TOs are mostly trying to make great passes.
Same defense as last year: no three-pointers (Oregon got their shooter loose though).
Killer play in this game was Eli trying to go around his back while up two: Michigan had a 41-20 run in this game!
Pritchard is the first guy to really get X—with Teske out of the game the lane is open bc X couldn't check him.
Teske/Johns: it was a matter of we're not going to help, and Johns was a dynamo late in that game.
Last play of the game: just didn't fall down. Why kill 15 seconds?
Johns! Good to have a smaller guy to use against 6'8" centers.
Livers shut Pritchard down: should we try an X-Livers-Franz-Johns-Teske lineup?
Miss having the option to put Charles on a guy like that.