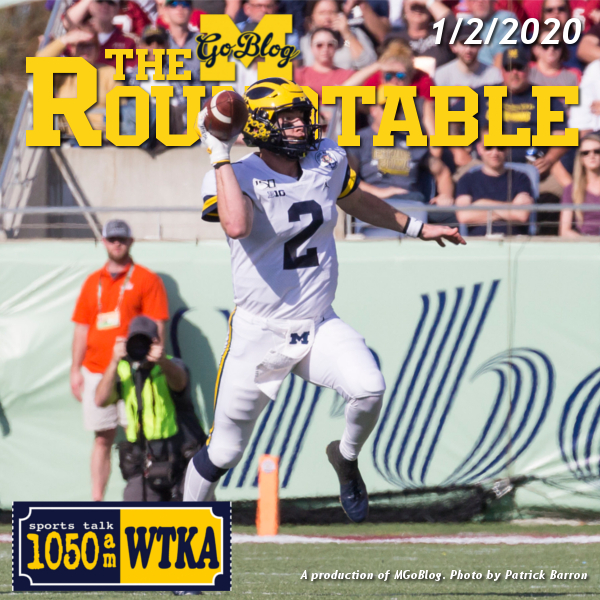 Football things discussed:
Thought it was going to be a bloodbath and it wasn't. Great script from Gattis
Everything relevant to next year goes well, Patterson doesn't give a quarterback a chance while Mac Jones is pinpointing bombs off his back foot.
Jeudy was the best player on the field, their QB played his best game and ours couldn't hit anything over 15 yards.
Season review: First-time coordinator stuff grew into what we more or less expected. Second half: shooting themselves in the foot, happens all the time in the Harbaugh era.
Great use of Giles Jackson as a quasi-RB.
2020: Michigan gets most of their skill position players back pending some NFL decisions for Collins & DPJ.
Gotta replace three guys on OL but have Stueber, Filiaga, Hayes, Vastardis, kick the tires on Terrance Davis perhaps? Have a lot of ways to get to another good five.
Brian prefers McCaffery to going after KJ Costello—people in the building love Dylan, but he's got to stop taking big hits.
Weird that Steve Sarkisian didn't bother with crushing us with Najee Harris inside until the end. What does DT situation look like?
Secondary: Seldon can play, gonna see what they have in DJ Turner.
Brian: Next year hinges on Mazi Smith and Chris Hinton, and how good/healthy can Dwumfour be?
Specialty positions: "Shark" (Uche) and Viper will be interesting.
Hoops things discussed:
MSU: were about to lose to Seton Hall until they got some crazy nice officiating
Biggest difference this year is State can't shoot threes.
What's Nunez doing in practice that he's still ahead of Bajema?