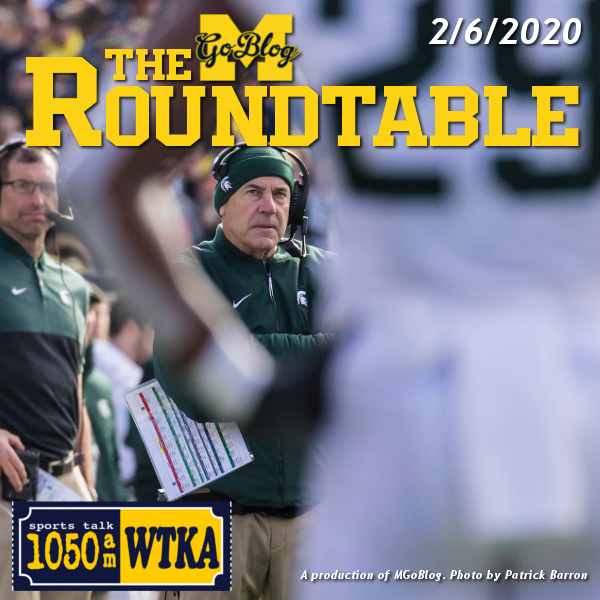 MSU things discussed:
Dantonio's irregularities: it sounds like he lied in his deposition (which is why Mars is getting involved?)
Does NCAA actually care about the alleged violations?
Is it a better job than Cincy? Cincy you can take to ND soon. MSU the last two recruiting classes: not so hot and total garbage. No matter who takes that job it's three and out.
The board of trustees hires the football coach, not the AD. Let's get some Michigan fans together and elect a board that's going to hire Brian Ellerbe!
Dantonio got away with it because there's no more bootlicking media in the Big Ten than MSU and OSU.
Basketball things discussed:
Craig: Bilas was right, it wasn't a basketball game.
Franz needs to shoot his way out of his slump.
This year's cascade of bad luck is payback for the national championship run two years ago.
Craig: some of the officials that used to be good have been wretched. Example: Teske is about to have a layup and they call him for 3 seconds and yeah it's a good call. Late in the game same thing with Wesson and he's in the lane for 8 seconds, same ref Carstenson staring at it. Wesson finally gets the ball, up two, the guy makes a three.
The call on Simpson: a call we've never seen and will never see again. Brian: pile all the bad luck into this season.
On Johns: are people paying attention to him now?
Michigan needs an infusion of athleticism badly. Zeb, Christianson, come on down. Without Livers the limitations of this roster are very apparent.
MSU? Without Livers they don't really have the firepower to win this game.
Funny how both basketball and hockey are both snakebit fundamentally sound teams missing talent.