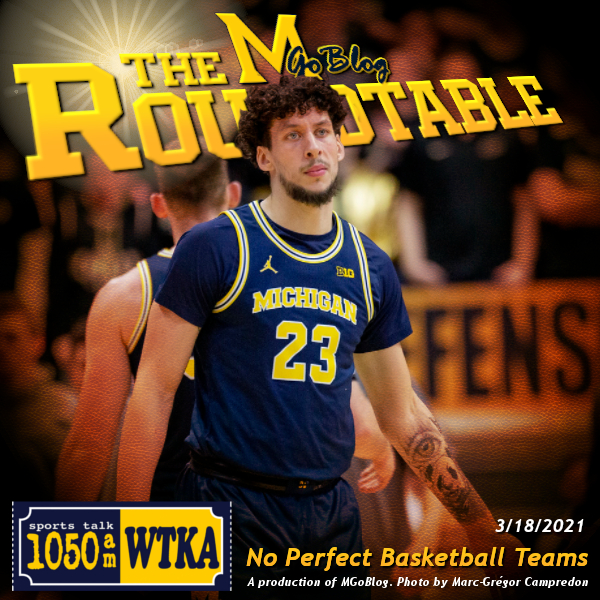 Things discussed:
If MSU wants to give out their content for free they absolutely should be sponsored by a mortgage broker: just pick a good one.
Michigan minus Livers: we basically say what Ace is saying in the post below this one.
Breaking down the East: It was Michigan with Isaiah, now it's a Michigan's got the best <50% chance of a lot of good teams, mostly on the other side of their bracket.
FSU? Lost to ND and "Notre Dame is the softest team in the country."
The Midwest: Tennessee is out their Mark Donnal but not having a center against Kofi is euh.
Oklahoma State: Kofi can body their Boones but Cade Cunningham is matchup issue for the Illini. TCU beat them twice, weirdly.
Villanova-Winthrop: Nova is barely a tournament team without their PG, Winthrop is a run down the court and shoot team with an offensive tackle at center. We like Nova but either team will lose to Purdue.
Loyola Chicago is weirdly ranked—Krutwig is Austin Davis in the MVC.
Baylor can shoot Purdue out of the building, that Ohio State-Baylor game will be fun because neither team plays good defense and both can shoot.
There was one perfect basketball team: the 2004 Pistons.
Gonzaga: has already beaten the 2, 3, and 4 in their region. UVA is a scary matchup because low # of possessions, but can the Cavs get to the next weekend after the long COVID layoff?
MSU to Round 2? Seth likes BYU, stop Aaron Henry you stop MSU.
Hockey: Michigan's a snakebit team that's as good as Minnesota, who's a top pick so there's a chance.