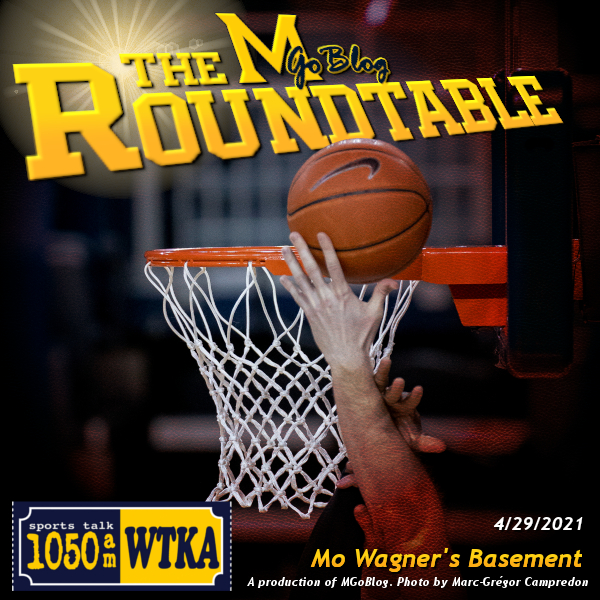 Things discussed:
Coastal Carolina transfer DeVonte' Jones: crafty, likes to steal it, three-pointer is more of a set shot not a pull-up. Athleticism questionable. Great around the rim. Great insurance policy. Can shoot a free throw. Can he D up? Will his shooters improve here?
Ceiling for hoops next year? Final Four team? We think Barnes is underrated, Chaundee-like jumper. Houstan is an instant third banana at the three. Those guys plus Eli and Johns give you shooting if it's not coming from point.
Why hasn't Franz declared yet? We're not sure. Speculate he's doing it after finals? Maybe Mo is using the Izzo's basement situation?
How do they fit everyone together? Diabate at the four with Dickinson at the five? Tschetter? Think T.Williams is a better option for fourth guy in the frontcourt.
Dickinson growth: Right hand, shooting threes.
Football recruiting: What is Michigan getting in Tyler Morris? Seth says Golden Tate—so smooth, Sam says Ronnie Bell. ACL injury moved up his recruiting timeline, canceled his senior season.
Sam makes us watch film on FL 3* DT Jordan Phillips, whom we think could commit on the visit this weekend. We like. Seth thinks a commit would necessitate a lot of defense, as Alabama's class right now is "Let's wait and see who we want then take them."
NCAA: 12-team playoffs, since they ruined the bowl games. Transfer portal effect on fandom? Emmert extension: very clarifying. There's no cost to getting rid of that guy. NCAA is just going to do anything to avoid paying players.