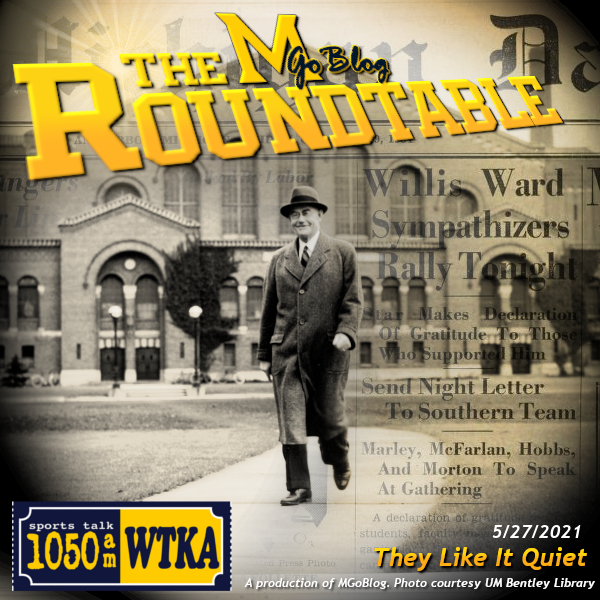 Thing discussed: The university's report and recommendation that Fielding Yost's name be removed from Yost Ice Arena, and the history of racism at the University of Michigan.
Panel: Mostly fine with renaming the building, think it's a small gesture and the story is much larger, involving most of those in power at the University of Michigan and other institutions around the country before, during, and after Yost's life.
Seth: Racism is quiet. It's not about smoking guns and bad actors—it's a culture that puts the feelings of racists over equality and a system of keep things "pleasant."
The "Moral Map" standard versus the reality that of Michigan's 103 building names, all but one—the William Trotter Multicultural Center—are named for white people. Trotter's lesson: You have to agitate.
Craig: We should be
Seth: 13.5% of my graduating class in 2002 was African-American; the last class was 4.4%.
Report issues: Didn't talk to the experts like John Behee whose information was used. Craig: It read less like a history and more like a legal brief, and he was really bothered that it made Gerald Ford out to be a hero. Willis Ward does not support that story.
Seth: Michigan was different from other schools because they had protesters against sitting their Black player. Yost hired Pinkertons, who found three leaders of the protesters whom President Ruthven dismissed.
Brian: Doesn't that disqualify him from having a building named for him? Seth: Sure, but it's a small part of a much greater system that's still in force today.
Sam: Highlight the student response. Highlight history. Discusses historical events of attacks on Black communities, and their resonance in events today.
Seth: Example of Belford Lawson Jr. (read the article here). Same movements we have today. Same reactions we have today.
Sam/Seth: History of Ocoee Massacre on Election Day 1920 in response to Black registration to vote, and how these stories are not told, kept quiet, specifically because they resonate with the same issues today.
Michigan must teach this part of their history—name of a building is such a small part.You have an opportunity here to apply some function by teaching people, and open up the conversation again to real changes. Do more than being symbolic.
Seth: Story doesn't end with Yost. Crisler's Quota system is visible in the team photos.