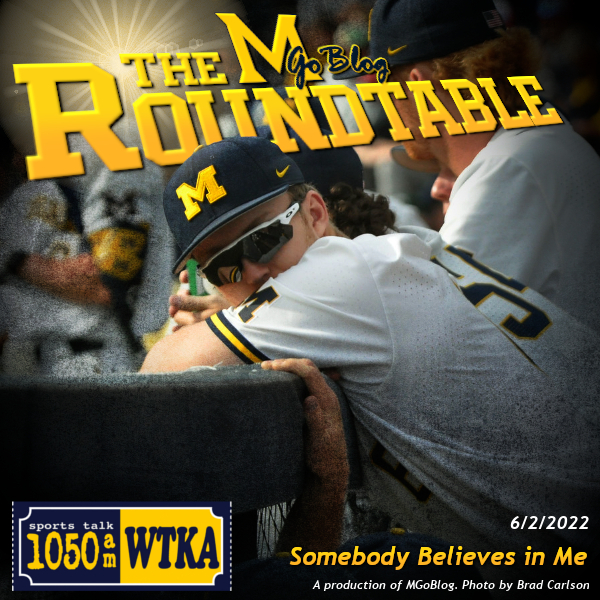 Things discussed:
Craig has a Nadal take.
Baseball: bats came alive in the tournament.
Joe Stewart: Makes Sparties so mad. Team came together when MSU threw at his head and they (and he) responded.
We do NOT trust the pitching. Good news: it's a hitter's regional. Louisville and Oregon are bat teams. So is everyone in the Big Ten save Iowa.
Rutgers got hosed. Kevin Warren would have said something if it was Ohio State.
Willie Weiss: Bakich's theory on his pitching turnaround is he overloaded his credits.
"MICHIGAN CHEATERS!"? Dude, he faced 2 batters. Also: it's baseball. Yankee fans are still mad about Kenny Rogers, but nobody else clutches their pearls over this. He's just bad at hiding it; give him a few years in the Astros farm system and he'll be better at hiding it.
Anyone else think the balls were hopping off the bats in Omaha? A couple of those homers were fly ball swings.
Michigan hoops: Need a 4, unless TW can improve his defense, or Jett is there. He'll be more active than Houstan; dirty secret is neither guy staying in the draft was
Craig's hot take: Caleb Houstan is Kam Chatman.
NIL and bigs: These guys are valuable in college like they're not in the NBA, and their personalities can shine here too. Helps less with the 5-star one-and-done types, because (see: Diabate, Houstan) they have to cash in now, and their freshman years are not as valuable as what they'll become.
Changes how we think Michigan should replace recruiting.
Softball: Why are their best players leaving? Is it competitiveness, or (Seth says) they have a big class coming in that they recruited pre-pandemic, and just 12 scholarships.