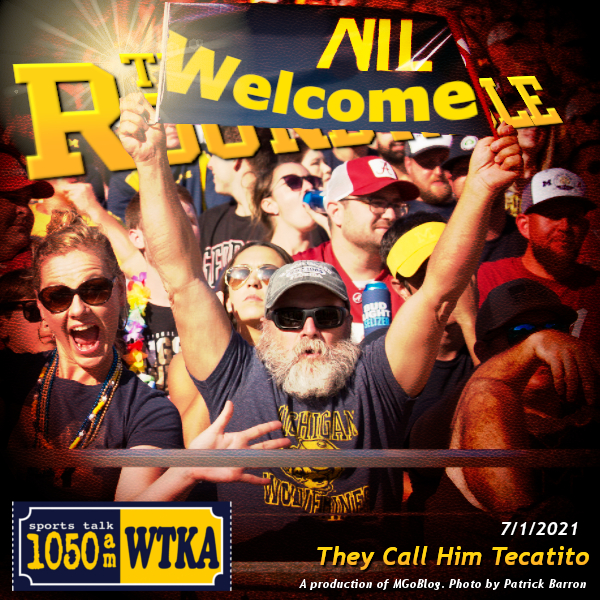 Things discussed:
Happy NIL Day. What's Michigan going to do about it? Sam: Line up 8 deals for Walter Nolen, duh.
Michigan's policy is to follow the new Michigan law, since that has some protections for the university if a player wants to advertise something objectionable (and a 7-day notification period), but Craig points out it's pretty lax.
Nike should lock up Michigan's stars now so they will stay through their eligibility, since they can't have them after.
Supreme Court decision vs NCAA: Ignore Kavanaugh and ask what this means for scholarship limits, which seems to fall in the narrow prohibition on offering academic aid. So can the baseball team be fully funded now? Can the Big Ten take back baseball by having the most scholarships?
NCAA defunct? No because they run a tournament and they need to play each other.
Effect on the game?
Planned economies don't work, commies!
If you're worried about the freedom aspect, you probably haven't been exposed to the dictatorship of a football program before.
History Hour: Michigan has been paying players since the 1890s.
Seth corrects Craig on the Bo to A&M story but it brings up a point: the NCAA was more effective at policing in the mid-20th century, but these days the players and the game are already professionalized.
Will NIL cause locker room friction? Do the 5-stars making $100k+/year at Ohio State get along with the 3-stars?
Education component: Teach the players how to run their own LLCs.
Seth: Stop trying to figure it all out right now. Capitalism works.
Michigan to require athletes to be vaccinated: Fine with this. Organizations have to protect themselves and the vaccine is safe and effective.
What school did Taylor Decker go to that he doesn't believe in vaccines? Yes, it's okay to dismiss people who have "issues" with the vaccines. Their issues have no basis in reality. It sucks that the wet whiny crazies have found a foothold in politics—though less of one than we're making it out to be—but it doesn't change the fact that if you aren't willing to do something as simple as take a COVID vaccine to protect your teammates, you're probably not much of a teammate, and we don't want you anyways.
Dwayne Washington to the NBA: Not sad because he specialized in killing Eli Brooks. Big Ten title goes through West Lafayette?
More Bufkin and Dug talk.